George Hamilton IV performs at Kilwarlin Moravian
"Right at home with fellow Moravians"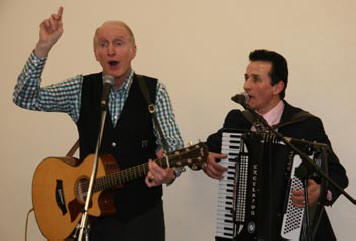 George Hamilton IV and John Walker pictured on stage at Kilwarlin Moravian.
An evening of gospel music with the international ambassador of country music George Hamilton IV was held in Kilwarlin Moravian Church Hall, Hillsborough on Thursday 5th February. Also taking part was local gospel singer John Walker, a former member of Kilwarlin Moravian.
Following a hot supper and oodles of mouth watering desserts, George and John together took to the stage for a final selection rounding off a most enjoyable evening with the well known gospel song, 'Will the circle be unbroken?" Picking up on the words of the song, George concluded by saying, "Because of what we believe, we have the joy of knowing that the circle will not be broken when we go home to be with the Lord - we will meet again".
In a brief interview following the concert, George, a Moravian, said he grew up in Fries Memorial Moravian Church in North Carolina so he said, "I feel right at home with fellow Moravians".
| | |
| --- | --- |
| | |
| George Hamilton IV and John Walker pictured with Lara Eastwood, Gillian Law and Juliana Eastwood. | George Hamilton IV and John Walker pictured with L to R: (front row) Brian, Hazel, Esther and Desmond Law. (second/back row) Jim and Hilda Law, Rachel and Eunice Hoey and the Rev Patsy Holdsworth. |

06/02/2009