New hall at Glenavy Methodist officially dedicated and opened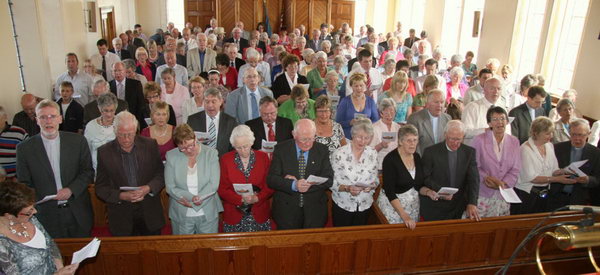 The congregation.
A new hall at Glenavy Methodist Church, which includes a kitchen, toilet facilities and a suite of smaller rooms, was officially opened and dedicated by The President of the Methodist Church in Ireland, the Rev Donald Ker, last Saturday afternoon (12th September). The minister, the Rev Elizabeth Hewitt OBE, conducted the service and the President preached the sermon. Nigel Moore (Society Steward) and Janice Scott read the Scripture lessons and the Rev David Clements (District Superintendent) led prayers for others. Charlotte Moore presided at the piano and Pat Ross presided at the organ; and together with Mark Ross (flute) and the choir, led the singing of congregational hymns that included 'Lord for the years your love has kept and guided' and 'Through all the changing scenes of life'. The choir sang the anthems 'The Lord's my shepherd' and 'Beneath the cross of Jesus'.
Following the official opening and prayer of dedication by the President, the ladies of the church served refreshments.
Methodism has been in the Glenavy area since the 1700's. The old hall was built in about 1830 and a banner refers to a Methodist Sunday School in the village in 1825. The present church was built in 1890 and is situated on the main street in the village. Originally the Society was part of the Antrim Circuit but in recent times has been part of the Glenavy and Moira Circuit, which also includes Craigmore and Maghaberry.
The new hall will come alive to the sound of music on Friday 25th September at 7.45pm when the Seven Towers Male Voice Choir will perform in concert. Everyone is invited; suggested donation is £7.50, which will include a light supper.
| | |
| --- | --- |
| | |
| At the official opening of a new hall at Glenavy Methodist Church last Saturday afternoon (12th September) are L to R: Rev David Clements (District Superintendent), The Rev Donald Ker (President of the Methodist Church in Ireland), Rev Elizabeth Hewitt OBE, Alan Ross, Randal Stewart, Councillor Allan Ewart (Lisburn Mayor) and Rev David Mullan (Rank Trust). | The Rev Donald Ker opens the new hall at Glenavy Methodist Church last Saturday afternoon (12th September). Looking on is the minister, the Rev Elizabeth Hewitt OBE. |
| | |
| Glenavy Methodist Council pictured at the official opening of a new hall last Saturday afternoon (12th September). L to R: (front row) Barbara Lutton, Heather Patterson, Rev Elizabeth Hewitt OBE, June Stewart and Iris Siberry. (back row) Nigel Moore (Society Steward), Alan Ross and John Scott. | Glenavy Methodist Church Choir pictured at the official opening of a new hall last Saturday afternoon (12th September). L to R: June Stewart, Irene Parker, Barbara Lutton, Charlotte Moore (Choirmaster), Pat Ross (Organist), Iris Siberry, Heather Patterson and Deborah Scott. |
| | |
| John and Florence Scott pictured with their daughters Jacqueline and Janice (left), son John and daughter-in-law Deborah (right) and grandchildren Matthew, Sarah and John at the official opening of a new hall at Glenavy Methodist Church last Saturday afternoon (12th September). | Mairead McOwing pictured with her daughter Sharon, son-in-law Edwin and grandchildren Edward, Calvin and Louise at the official opening of a new hall at Glenavy Methodist Church last Saturday afternoon (12th September). |
| | |
| Stone tablet. | Stone tablet. |
14/09/2009