Launch of the new Lisburn City Elim Church Complex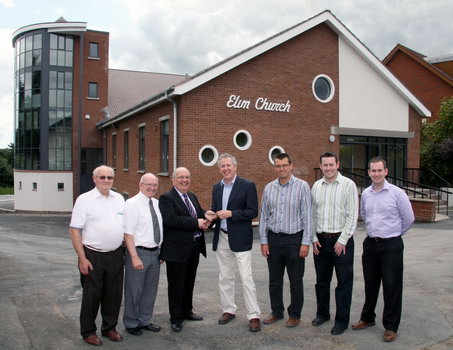 At the hand over of the keys of the new Lisburn City Elim Church Complex on Friday 7th August are L to R: Tom Tate (Finance Officer), David Irvine (Caretaker), Pastor Norman Christie, William Shannon (Architect), Gavin Hewitt (Bailie Associates M & E Engineers), J P McGeough and Conor McCartney (T & A Kernaghan Ltd).
Pastor Norman Christie and the Church Session extend an invitation to all to join them at the launch the new Lisburn City Elim Church Complex on Saturday 5th September at 3.30pm. The special guests are Pastor John Glass and Pastor Eric McComb. Refreshments will be provided afterwards. The thanksgiving celebrations will continue on Saturday evening with a Praise Service at 7.30pm.
HISTORY OF LISBURN ELIM
The witness of Lisburn Elim Pentecostal Church began officially in January 1921 using rented accommodation. The fellowship obtained a piece of ground in Wallace Avenue in January 1924 and shortly afterwards a building was erected that housed the fellowship for nearly sixty years. Under the leadership of Pastor Jim Atkinson, the Church Session decided to purchase the Church of Christ building on the Belfast Road. The building, which had been erected ten years earlier, still required work to achieve completion. The new premises were officially opened in November 1984. The present pastor, Norman Christie, was inducted here in May 1993. The outreach ministry of the church was greatly enhanced by the construction of a large garage in 2005, which accommodates the two minibuses and a caravan required for street evangelism. In December 2008, work began on a new building project involving the extension of the main church and minor hall, the creation of a glass prayer tower and top storey for youth work, installation of coloured windows, and a modern audio-visual studio. Architect William Shannon and contractors handed over the keys of the new Church Complex to Pastor Norman Christie, Tom Tate (Finance Officer) and David Irvine (Caretaker) on Friday 7th August allowing them to make final preparations for the official opening on Saturday 5th September.
07/08/2009