Megan's summer outreach work in Southern Ireland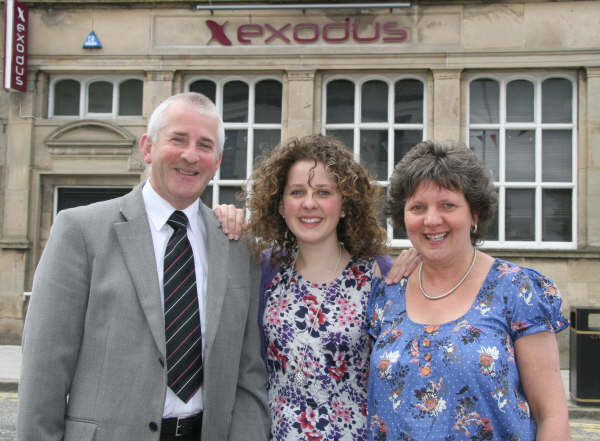 Megan pictured with her parents John and Hilary Gillespie at Exodus (the former Lisburn Library) following morning worship in Railway Street on Sunday 12th July.
Megan Gillespie will spend two weeks doing outreach work this summer (25th July to 8th August) in Southern Ireland. She will be one of a team from Exodus who will work with both Family Scripture Union in Avoca and Dublin Christian Mission based in Dublin city centre. Megan and the team will engage with children and parents through drama, worship, bible lessons, and games; they will also lead the service in Abbey Presbyterian Church, Dublin on Sunday 2nd August.
During morning worship on Sunday 12th July, the minister, the Rev Brian Gibson, conducted a short interview with Megan providing the opportunity for her to update the congregation of her forthcoming outreach work. In his sermon, Mr Gibson gave a challenging address to Megan and the congregation as he spoke of the need to "Take up your cross and follow Christ". He went on to say that being a Christian is a 'great challenge' and emphasised the need to meet that challenge and help build God's kingdom by sharing the good news of Jesus Christ.
12/07/2009