Mission Worker at Dromore Reformed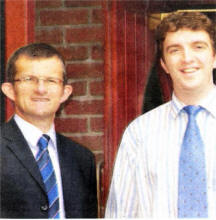 DROMORE Reformed Presbyterian Church has been joined in their local outreach efforts by mission worker Philip McCollum. The 26 year old, who is originally from Coleraine, has just completed a year of studying Biblical Counselling in Philadelphia and previously trained for three years at the Reformed Theological College.
Rev. David McCullough, who has recently been appointed Moderator of the Reformed Presbyterian Church of Ireland, said: "We are very excited about the prospect of having Philip work with us over the next six months.
"Philip will be assisting us in spreading the Good News of the gospel throughout Dromore and the surrounding villages whilst being involved in preaching, youth work and open air services."
16/06/2009