Rev Howard Gilpin elected as new moderator
of Dromore Presbytery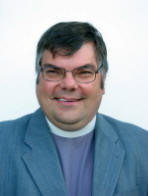 The Rev Howard Gilpin, minister of Moira Presbyterian Church since September 2001, was elected as the new Moderator of Dromore Presbytery at a Presbytery Meeting in First Lisburn Presbyterian Church on Tuesday 3rd February. Mr Gilpin will be installed at a meeting of Presbytery on Tuesday 3rd March in succession to the Rev David Porter, Minister of Second Dromara Presbyterian Church. The Clerk of Presbytery is the Rev John Davey - Minister of Hillsborough Presbyterian Church.
In a busy year in office, the Rev David Porter, outgoing Moderator of Dromore Presbytery, co-ordinated and accompanied former minister of First Dromore, The Rt Rev Dr Donald Patton, Moderator of the General, on a visit to the Dromore Presbytery area last November when the week of engagements included visits to First Dromore, Second Dromara, First Lisburn, Presbytery Rally in Railway Street Presbyterian Church, meeting of Dromore Presbytery, meeting with ministers and wives at Hillsborough Presbyterian Church, Lagan Valley Hospital, Meeting with the Mayor at the Mayor's Parlour, agricultural visits, Harmony Hill Primary School, Wallace High School and Dromore High School.
The 22 churches in the Dromore Presbytery are: Anahilt, Ballinderry, Banbridge Road - Dromore, Cargycreevy, Drumbo, Drumlough, Elmwood - Lisburn, First Dromara, First Dromore, First Lisburn, Harmony Hill - Lambeg, Hillhall, Hillsborough, Legacurry, Loughaghery, Magheragall, Maze, Moira, Railway Street - Lisburn, Second Dromara, Sloan Street - Lisburn and St Columba's - Lisburn.
05/02/2009