'Claud' the donkey adds to the realism
of Palm Sunday at Magheragall Parish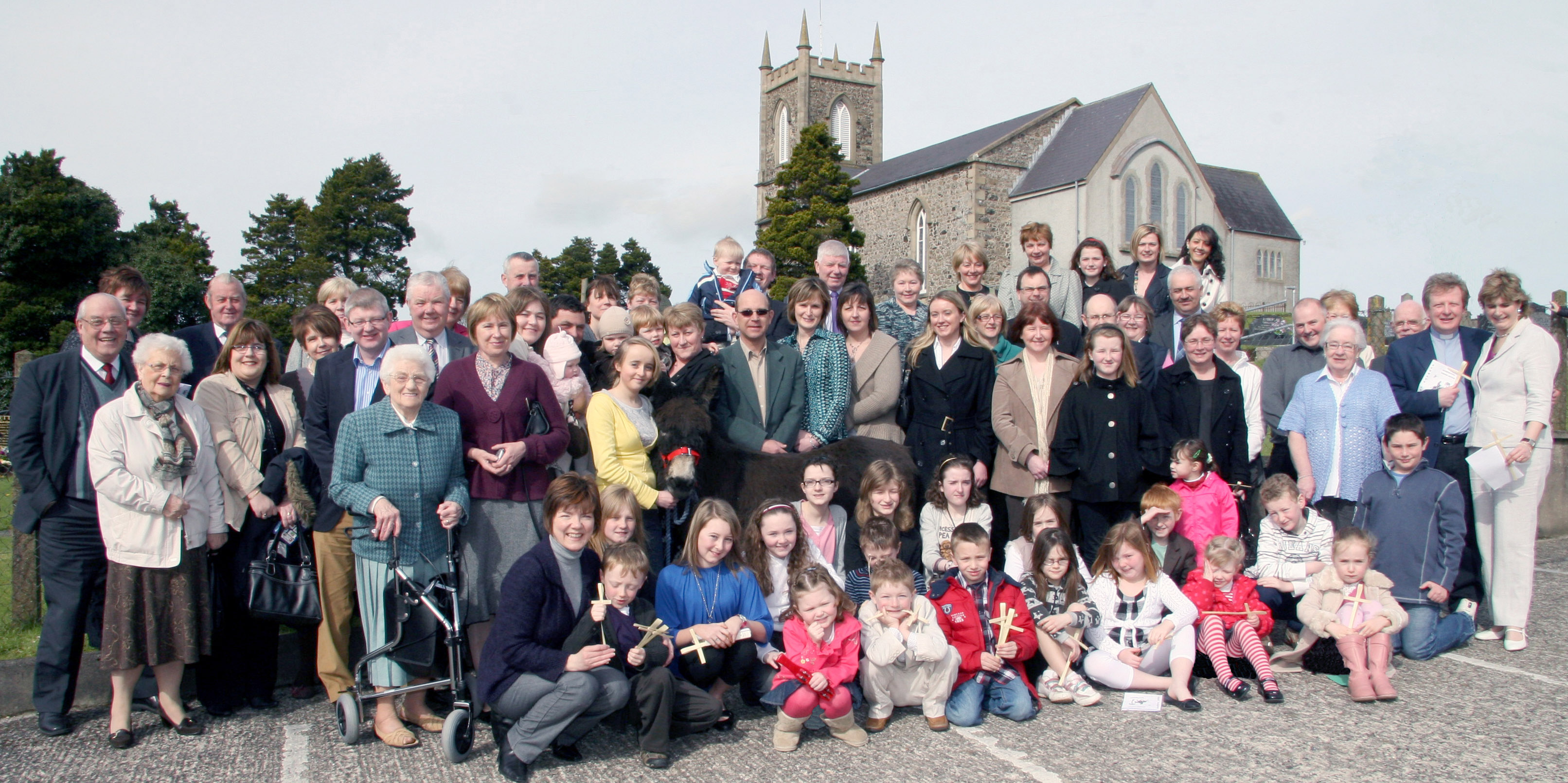 Magheragall parishioners pictured with Laura Roberts and her donkey Claud at the Palm Sunday services at Magheragall Parish Church.
John, Gill and Laura Roberts's donkey added to the realism of the Palm Sunday services at Magheragall Parish. The 10.15am service, led by the Sunday School and J.A.M. Group, concluded with a Palm Sunday procession from the parish church to the car park where the children (young and old) enjoyed meeting Claud the donkey. The theme of the service was the 'Humble King' and it was led by the children and young people including Abbie McMillan, Ellie Higginson, Leanne Turkington, Kristian Nelson, Sam McKinistry, Andrew Dark, Callum Donaghy, Zoe McAllister, Jonathan Blair, Alison Dark, Jessica Rodgers, Lexie Spence, Daniel Parker, Kerri Nelson, Zachary Cummings, Emily Forsythe, Heidi Joss and many others with percussion instruments. After meeting Claud the children enjoyed juice and donuts in the church hall.
The 10.15am service was followed by Morning Prayer at 11.30am when the Parish welcomed their new Lay Reader Tony Hall. In his sermon he spoke of how Jesus "set His face to go to Jerusalem" and of the momentous journey, knowing what lay ahead for Him. He called on the congregation to show the same resoluteness in everything we do in our Christian life and strive to be like Jesus and finish the course so that having followed in His footsteps we will hear the "well done good and faithful servant".
06/04/2009