Railway Street Presbyterian Church
Open for Viewing at Summer Fair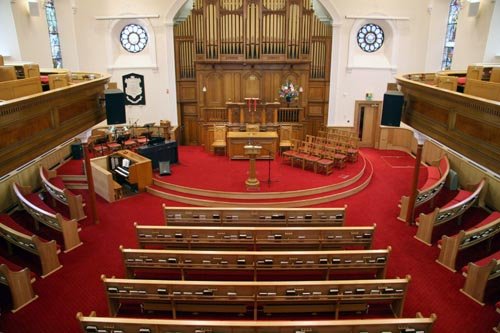 The recently refurbished church sanctuary.
In readiness for its 150th anniversary celebrations next year, Railway Street Presbyterian Church is throwing wide the doors to its recently refurbished church sanctuary at the Summer Fair on Saturday 30th May. Leaflets will be on hand to explain the significance and origin of the beautiful stained glass windows and artefacts in brass and stone.
Jean Murray, Co-Chair of Railway Street Fund-Raising Committee commented, "We are very grateful to John Kelly for allowing us to quote from his informative book "Footsteps on the Sands of Time" on the history of Railway Street congregation. We are delighted that the Summer Fair will give us an opportunity of sharing the beauty, comfort and sanctity of our building with the wider Lisburn public. We hope that lots of people will avail themselves of this opportunity, and also of course come along for all the fun of the Fair!"
The Summer Fair in aid of the refurbishment scheme will be held in the Church Hall and grounds, and will include the sale of antiques and collectables, plants, hanging baskets, home produce, jewellery, greetings cards, and recent best-seller paperbacks, as well as tea, coffee and lunches.
The Minor Hall will be the venue for electronic games, with fun for young and not-so-young!
Railway Street Summer Fair will take place on Saturday 30th May from 10am to 2pm. Everyone will be made very welcome.
14/05/2009