Railway Street Presbyterian Church open for viewing at Summer Fair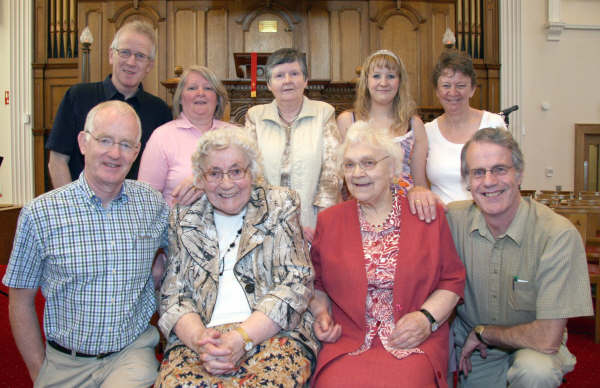 The Rev Brian Gibson (left) and Roger Thompson (right) pictured with visitors to the recently refurbished church sanctuary on Saturday 30th May. L to R: (seated) Eileen Drayne (St Patrick's) and Elsie Dickson (First Rathfriland). (back row) Billy and Sally Gray (Hillhall Presbyterian), Isabel McMullan (Drumlough Presbyterian) and Caroline and Noreen Getty (St Andrew's, Belfast).
In readiness for its 150th anniversary celebrations next year, Railway Street Presbyterian Church threw wide the doors to its recently refurbished church sanctuary at the Summer Fair on Saturday 30th May. Leaflets were on hand to explain the significance and origin of the beautiful stained glass windows and artefacts in brass and stone. The Fund-Raising team were delighted that the Summer Fair gave an opportunity of sharing the beauty, comfort and sanctity of the building with the wider Lisburn public.
The Summer Fair, in aid of the refurbishment scheme, included the sale of antiques and collectables, plants, hanging baskets, home produce, jewellery, greetings cards, and recent best-seller paperbacks, as well as tea, coffee and lunches. In addition to car washing, there were electronic games, which provided fun and entertainment for young and not-so-young!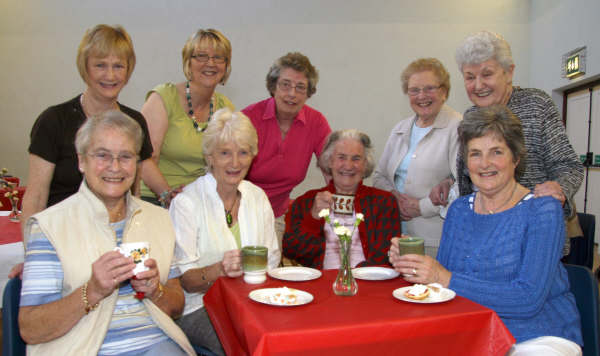 Enjoying morning coffee at the Summer Fair in Railway Street Presbyterian Church on Saturday 30th May are L to R: (front) Gladys Brown, Moya McLean, Margaret Smyth and Margaret Snodden. (back row) Jean Murray and Carolyn Gowdy (Fundraising Committee) and Edith McConnell, Betty Bowman and May Griffin.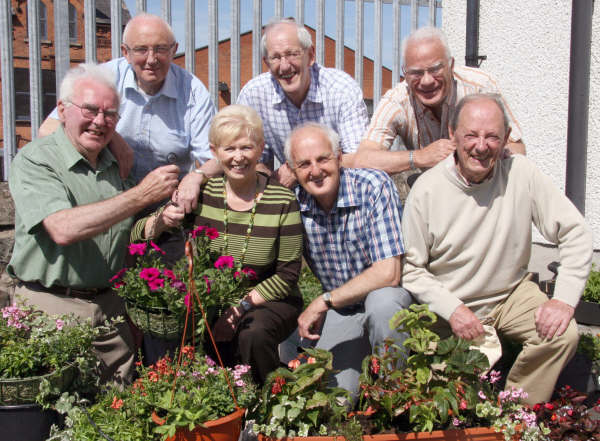 Greenfinger fundraiser Arthur Warwick is pictured selling one of his hanging baskets to Joan Kane at the Summer Fair in Railway Street Presbyterian Church on Saturday 30th May. Included are (front right) Ivor Kane and Noel Glover and (back row) Billy Braithwaite, Colin McLean and Cecil Gallagher.
02/06/2009