Rev Gary Glasgow preaches farewell sermon at Drumlough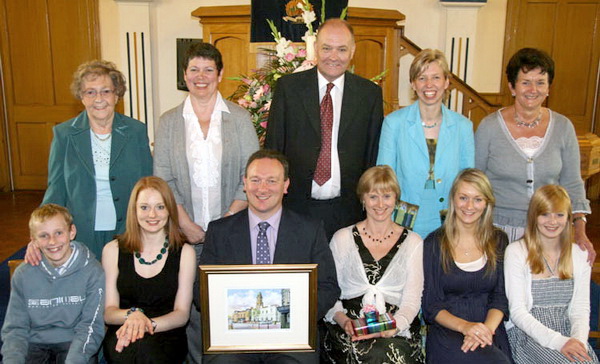 Rev Gary Glasgow and his wife Zoe pictured with their family Jonathan, Kathryn, Sarah and Lydia. Included are members of the congregation who made presentations to the family. L to R: (back row Isabel Nicholson (Organist), Lou-Ann Jess (Drumlough and Anahilt Women's Fellowship), David Gibson (Clerk of Session), Sharon Jordon (PW) and Margaret McMullan (Choir).
The Rev Gary Glasgow preached his farewell sermon at Drumlough Presbyterian Church last Sunday morning (6th September). Mr Glasgow, who was installed as minister of the joint charge of Drumlough and Anahilt on 2nd September 1998, will be installed in Gardenmore Presbyterian Church, Larne on Friday 11th September. The Glasgow family assisted their father in what was an emotional but most enjoyable service; Mr Glasgow's wife Zoe gave the children's address, Jonathan led the opening prayer and Lydia read the Scripture lesson. Mrs Isabel Nicholson presided at the organ and together with the church choir led the congregational hymns that included, 'Jesus is Lord' and 'Jesus name of wondrous love'. The closing anthem was appropriately 'God be with you till we meet again'.
In making a presentation to their minister of eleven years, David Gibson (Clerk of Session) thanked him for his sound preaching which was firmly based on the word of God and especially on the Gospel of Jesus Christ. David went on to wish Mr Glasgow and his family God's richest blessing as they take up their new challenge. The organist, Mrs Isabel Nicholson made a presentation to Mrs Zoe Glasgow. Further presentations were made to the family by Sharon Jordon on behalf of PW, Margaret McMullan on behalf of the choir and Lou-Ann Jess on behalf of Drumlough and Anahilt Women's Fellowship.
Mr Glasgow thanked the congregation of Drumlough for their warmth, generosity and kindness to him and his family for the eleven years he was their minister. He spoke of the privilege of being able to serve the Lord amongst them and asked for their prayers for him and his family as they move to Gardenmore Presbyterian in Larne.
The service was followed by lunch providing the opportunity for the congregation to say farewell to the whole Glasgow family.
The convenor of the vacancy at Drumlough and Anahilt will be the Rev Dr Bert Tosh.
| | |
| --- | --- |
| | |
| Rev Gary Glasgow | Kirk Session. L to R: (front) Reggie Jess, David Gibson (Clerk of Session), Rev Gary Glasgow, Tom Jordon and Samuel Jordon. (back row) Andrew Catherwood, John Rosborough, Jim Shannon (Congregational Secretary) and Bobby Spence. Missing from the photo: Bobby Cairns and Richard Alcock. |
07/09/2009