Harvey Shaw in conversation with Dr Paisley
at Ballygowan Mission Hall 'The 1859 Revival'
| | |
| --- | --- |
| | |
| Gordon Martin (centre) is pictured with Harvey Shaw and The Rt Hon Dr Ian Paisley MP. | Gordon Martin (second from left) is pictured with Harvey Shaw, Baroness Eileen Paisley and The Rt Hon Dr Ian Paisley MP. |
The weekly gospel meeting 'The 'Word' at Ballygowan Mission Hall, on the outskirts of Lisburn, was packed last Saturday evening (7th March) for an evening with Harvey Shaw in conversation with The Rt Hon Dr Ian Paisley MP as they spoke of the 1859 Revival, the history of which is recalled in Dr Paisley's new book. During the evening Mr Shaw spoke of a South African visitor who after reading Dr Paisley's book asked, "Did this really happen?" to which Harvey replied that although he was not around 150 years ago he assured him that it certainly was true. This prompted him to ask Dr Paisley, "How did we lose it?" In his response, Dr Paisley said that the fear of God is lost and Christians are not living in the joy of knowing that one day they will be in heaven for eternity. He spoke of the most important service held in the church - 'the prayer meeting' saying that people don't go to them. He emphasised the need to start with God and to live with Him and be at his beck and call and be part of the "purified church" like a bride adorned for her husband. Recalling the story of the woman in Jericho who hung the cord out of her window resulting in the salvation of her and her family, Dr Paisley concluded, "God moves in mysterious ways, His wonders to perform - it's amazing what God can do, He did it before - He can do it again".
'Revive Thy work O Lord', the title of the final hymn, summarised the need for revival, which was further reinforced in Mr Shaw's closing prayer when he spoke of the need to have the sacred flame re-kindled in all our hearts.
Brief history of the 1859 Revival
150 years ago there occurred in Ulster a most remarkable outpouring of evangelical fervour known ever after as the1859 Revival. Influenced in part by reports of revivalism in America, it first manifested itself in the predominantly Presbyterian villages of Kells, Connor and Ahoghill, all in Co Antrim. It soon spread to most parts of eastern Ulster, including Belfast and Lisburn. Prayer meetings were held in many places. Churches were crowded and thousands professed conversion as the revival spread. The Revival of 1859 gave rise to a great expansion of Presbyterianism in the town of Lisburn and made it necessary for a second congregation (now Railway Street) to be formed.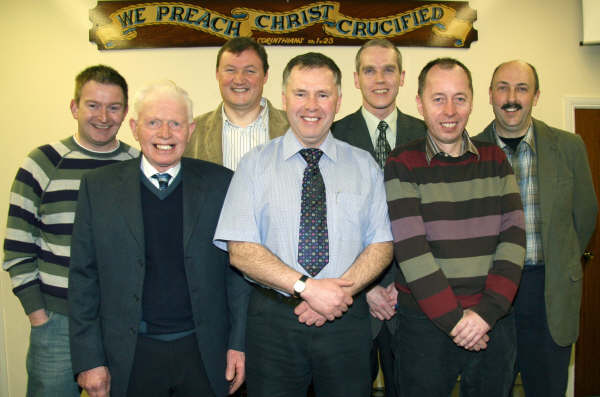 Ballygowan Mission Hall leaders L to R: (front row) Jim Moorhead, Gordon Martin and John Hobson. (back row) Stephen Shanks (Treasurer), Philip Osborne, Stephen Gamble and Brian Poots.
08/03/2009