Former Lisburn man sharing ministry in Congo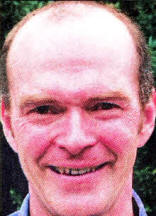 A FORMER Lisburn man who is sharing ministry in Congo made a visit to the city recently.
The Rev Trevor Patterson, son of Harold and Meta, was born in Lisburn and moved to England with his family in 1998.
Formerly a secondary school teacher, he was ordained in 1993 and was curate in Ashtead, Surrey before becoming Vicar of Holy Trinity Richmond.
His wife Kate grew up in Twickenham and studied theology with Trevor at Trinity College, Bristol and for a further year at Wycliffe Hall, Oxford. Kate is a licensed lay minister and takes an active role in the life of the church being employed part-time. They have three boys - Johnny (15), Connor (12) and Ben (10).
For the past two weeks Trevor and two other ministers have been in Congo at the invitation of the Bishop of Bukavu running a conference for church leaders in an area that has been torn apart by conflict.
Four million people have died as a result of war in Congo, the biggest death toll from any conflict since the Second World War.
Trevor and the team, which also includes a nurse who led sessions on AIDS awareness, key in a country where there has been widespread rape, were ministering to many who have been bereaved and encouraging church leaders there as they bring the gospel of reconciliation and healing.
Trevor left London on Thursday November 19 and his itinerary included travel to Bunia, Goma, Bukavu, Bukavu, Entebbe and Kampala before returning to London on Wednesday, December 2.
Ulster Star
04/12/2009