Service of thanksgiving for life of the late Dean Barr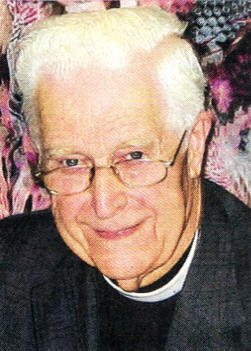 A service of thanksgiving will take place for the life and ministry of the Very Reverend W.N.0 Barr, former Rector of Derriaghy who passed away recently
A SPECIAL service of thanksgiving will take place for the life and ministry of the Very Reverend W.N.0 Barr, former Rector of Derriaghy who passed away recently.
Dean Norman Barr died on October 19, a month after his 90th birthday. He was Dean of Connor from 1982 to 1990 and had also ministered in Ballymena, Belfast Cathedral, Duneane, Ballyscullion and Whiterock as well as Derriaghy from 1961 to 1990,
The special service will take place at Christ Church, Derriaghy, on Sunday November 28, beginning at 3pm.
The Rev. J.0 Budd, Rector of Derriaghy, described Rev. Barr as a "learned" and "wise person". Mr Budd said: "He was the right person to have on board during challenges."
The Rev Budd continued: "There were big changes during his time but as Rector of Derriaghy during the troubles he had a calming influence on the parish and people he encountered."
Rev. Budd said: "He looked out to people of other traditions and respected them and associated naturally with them."
Rev. Budd spoke of how the late Dean had produced books associated with the history of the parish and created diocesan succession lists with the help of his wife Florence. "He had an excellent knowledge of historical things," said Rev. Budd.
The preacher at the service will be Bishop Samuel G Poyntz, who was Bishop of Connor from 1987 to 1995. Also taking part in the service will be the parish clergy and choirs of the Parishes of Derriaghy and also Dunmurry.
Ulster Star
19/11/2010