Auction to raise money for Kenya water pump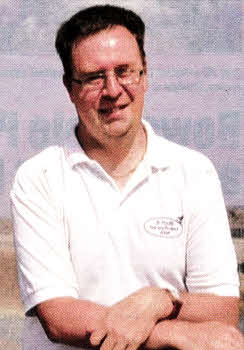 Mark Jamison a parish lay reader from St Pauls Parish Church raise money for a water pump in Kenya.
A SPECIAL auction with signed celebrity merchandise, will go under the hammer on Friday November 19 in St Pauls Parish Church Hall, Longstone Street, to raise funds for the construction of a water pump in Kenya.
A wide range of unique items including books, TV scripts, DVDs and shirts signed by celebrities will be up for grabs, even Tom Daley's swim shorts, as well as tickets for the West End production of 'Wicked' along with the chance to meet its star Rachel Tucker.
The auction comes after 25 parishioners from St Pauls visited Kajiado, Kenya, a diocese with which St Paul's enjoys a very vibrant partnership. Within Kajiado, the church operates a number of water projects which allow it to provide educational and health services as well as spiritual work. The installation of a water pump will be an important community resource, providing clean water which would be used by more than 200 families — many of whom currently walk many miles to their nearest water hole. The pump will be constructed next to the new Oloosuyian Maasai Girls School where the team helped to build the first classroom during their visit. The overall cost of the pump is £10,000, almost £6,000 of which has already been raised by Church Mission Society Ireland (CMSI). This includes money from St Paul's own Kenya Fund. The additional £4,000 required to compIete this project will also enable a pump house to be buiite, using funds raised in memory of the late Mabel Jamison, whose son Mark, a parish lay reader, has done most of the planning for the auction.
Mark's late mother is the inspiration behind the auction. He said: "I am very pleased with the response. It seems to have struck a chord with some of the celebrities."
Mark's mother Mabel died in June 2009, just a few months before he travelled to Kenya with a team from St Pauls.
He felt the £1,500 donated in Mabel's memory would make a vast difference to the people in Kajiado, and in consultation with CMSI Mark donated the money for the new pump house. But he now wants to raise the outstanding money for the pump it will house. If the auction and other fundraising events raise more than the £4,000 target, this will ne donated to other vital water projects in Kenya."
The auction will begin in St PauTs Church Hall at 8pm with viewing from 6-30pm. It is one of a number of planned fundraising events, which include a sponsored 'Well Push' and a fundraising dinner.
Ulster Star
12/11/2010