5 Day Club is a big hit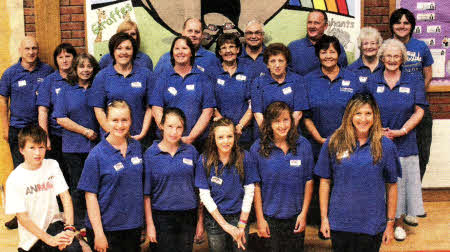 Some of the 40 plus volunteers involved in the 5 day club in Lisburn Baptist Church this week.
WITH a nightly attendance of around 100 children, this year's 5 day club in Lisburn Baptist Church hall is proving to be a great attraction for all the boys and girls.
The Noah's Ark experience and the accompanying programme of songs and Bible verses is bemg skilfully presented by a dedicated group of 40 workers and willing helpers. It continues tonight, Friday, at 6.30pm.
The climax of the week, though, will be a family service on Sunday afternoon, 28th August at 4pm, in the church in Longstone Street.
The organisers of 'Come on Board' hope that families and friends will indeed 'come on board' and encourage the children on Sunday afternoon. The boys and girls will be taking part in the service and sharing what they have learned during the week.
Ulster Star
26/08/2011