Collection raises funds for Soldiers' Charity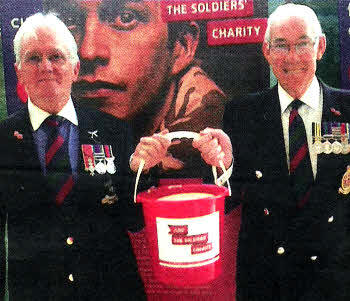 Volunteers Tony Baker MBE (left) and Ron Moore (right).
ABF The Soldiers' Charity were out in force recently at Tesco in Lisburn.
Borneo and Malaya Veterans Tony Baker MBE and Ron Moore were at the front line with polished medals and buckets at the ready. After a brisk day's campaigning, £1130 was collected from supportive shoppers.
"The veterans have done really well," said David Forsey, Regional Director of the Soldiers' Charity, which is based in Thiepval Barracks.
"Shoppers were stopping to talk to the collectors about members of their own families whom are serving in Afghanistan. Everyone can be sure that every penny of this money will go to helping soldiers, ex-soldiers and families whom have fallen upon hard times."
Brenda Hale, MLA for Lisburn was full of praise for the Soldiers' Charity. "The charity looks after our wounded Afghanistan Veterans really well," she said. "For instance, The Soldiers' Charity Quick Reaction Fund will fund modifications to amputees' homes to help mobility - like widening doorways or fitting ramps and handrails. There is also money to help injured Soldiers facing discharge from the Army to retrain and stand a better chance of finding work in Civvy Street."
Anyone wishing to volunteer for the charity can call the main office on 02892 678112 or those wishing donate can send a cheque made out to ABF to The Soldiers' Charity, building 45, Thiepval Barracks, Lisburn BT28 3NP.
Ulster Star
28/10/2011