New banner for local Royal Black Preceptory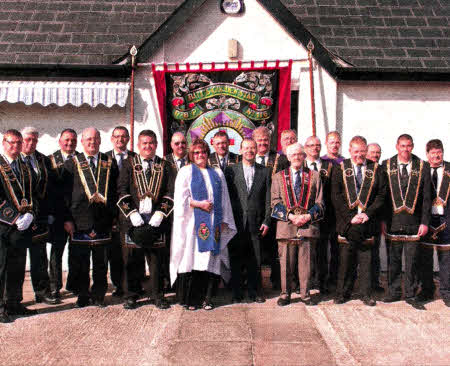 0fficers and Members of Batt's Golden Star standing in front of the new Banner. Included are Mrs. Maureen Bennett and Rev Clarke Deering and Sir Knight Peter Donaldson
THE officers and members of Batt's Golden Star Royal Black Preceptory recently unfurled their new banner on Saturday, August 20 in advance of the traditional Last Saturday of August demonstration in Newry.
The banner that bears a portrait of the late Robert Batt, former landowner in Ballylesson and Purdysburn and in whose memory the Preceptory is named after, was officially unfurled by one of the longest serving members, Sir Knight Peter Donaldson.
A service of dedication was conducted in the Orange Hall, Purdysburn, led by Rev Clarke Deering from Ballycairn Presbyterian Church and Mrs Maureen Bennett representing the Rector of Drumbo Parish Church.
The Sir Knights were pleased to welcome the Worshipful District Master and Deputy District Master and other District Officers from Largymore Royal Black District No. 9 together with visiting Sir Knights from neighbouring Preceptories.
The new banner which was supplied by John Smyth was unfurled exactly 44 years to the day of the previous one.
Ulster Star
28/10/2011