New Principal appointed at Belfast Bible College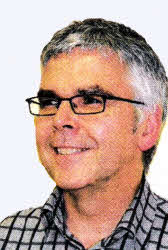 THE Board of Belfast Bible College has announced the appointment of Rev Dr Ian Dickson as the new Principal from the beginning of next month.
Ian joined the staff of BBC in 2004. After studying theology at Romsey House in Cambridge he worked in pastoral ministry for 15 years before moving into the field of theological education.
Belfast Bible College is an international and multi-denominational training college in Dunmurry. The College was founded as the Belfast Bible School and Missionary Training Home in 1943 and moved
to its present site, Glenburn House, in 1983, with 35 full-time students.
Since then the campus has continued to develop, with new buildings being added as student numbers have increased. The College now has over 220 full-time students, as well as several hundred involved in flexible part-time study.
International students from more than 30 different countries make up more than a quarter of their
present student body.
Further details on the College can be obtained by visiting BBC's website www.belfastbiblecollege.com.
Rev Dr JN Ian Dickson
Ulster Star
25/03/2011