Belfast Bible College celebrates graduation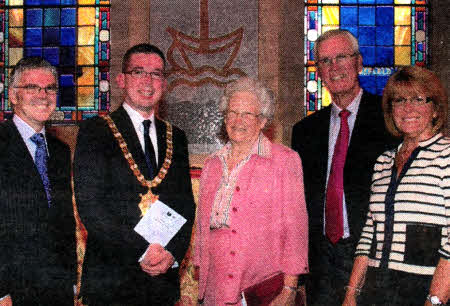 Belfast Bible College Prinicpal, Rev Dr JN lan Dickson; the Lord Mayor of Belfast Councillor Niall 0 Donnghaile; Dr Helen Roseveare; Mr Peter Martin, Chair of the BBC Board; Mrs Margaret Martin.
BELFAST Bible College, based in Dunmurry, recently held their end of year Graduation and Celebration of Studies in St Anne's Cathedral.
Commenting on the event, Belfast Bible College Principal, Rev Dr Ian Dickson said: "We were delighted to hold our Celebration Service in Belfast Cathedral for the first time this year. The evening is always of great significance for our students, their families and for the local Christian community, and it was a privilege to hold it in a building of such importance for the people and city of Belfast."
Belfast Bible College (BBC) is an international and interdenominational training college offering a wide range of full and part-time study options to individuals of all ages and backgrounds. International students from more than 25 different countries contribute to the present student body of over 200 full-time students.
The College is a constituent college of the Institute of Theology at Queen's University Belfast and is also a partner college of the University of Cumbria.
As well as celebrating the achievement of more than one hundred graduating students, the service acknowledged the life and ministry of Dr Helen Roseveare, who for more than six decades has inspired and encouraged Christians to follow in Christ's footsteps.
Born in England in 1925, Dr Roseveare spent many years working and ministering in the Congo, as a medical missionary with WEC International. Since leaving the Congo in 1973, Dr Roseveare has authored many books and spoken across the world. Addressing the students, Dr Roseveare encouraged them to be faithful servants in whatever sphere of life and ministry they felt called to.
Ulster Star
24/06/2011