Local man highlights work of Christian disability charity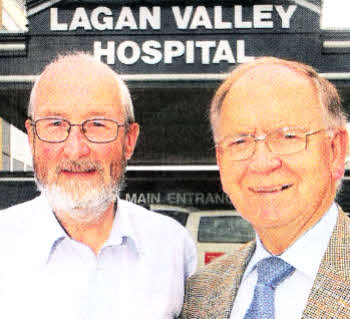 Brian Dorman, BM partner of the Christian Blind Mission with Eric Clarke CBM Country Manager pictured at Lagan Valley Hospital which donated equipment to the campaign. US3611-102AO
A LOCAL man has spoken about his work with Cambridge-based disability charity, CBM, an international disability and development organisation, committed to improving the quality of life of people with disabilities and at risk of disabilities in the poorest countries of the world.
In talking about his role Eric Clarke, a popular gospel singer and member of Moira Baptist Church, hopes to let more people know about the work of the charity and how vital it is.
Eric, CBM Country Manager, commented: "CBM is an international Christian organisation that improves the quality of life of people with disability and those at risk of disability in the developing world.
"We do tremendous work and have thousands of supporters here. Whatever years I have left in this world, I want to use them for the Lord."
CBM began in 1908 when one man, Pastor Ernst Jacob Christoffel, opened a home for blind, hearing-impaired and physically disabled people in Malatia, Turkey. A century later, CBM is an official partner of the World Health Organisation.
The charity is working with Aid to Hospitals Worldwide (A2HW)
which refurbishes redundant NHS equipment. Much of the equipment is used by CBM's own doctors working in Africa and Asia.
CBM has worked with Suffolk-based A2HW since beginning its Gifts in Kind campaign in 2010. National director of CBM UK, Dr Bill McAllister, described the scheme as "in effect a gift to the people overseas from the people of the UK".
He said: "In the last financial year, CBM has sent 11 shipments of equipment including hydraulic beds, ophthalmoscopes, slit lamps, anesthetic machines, and X-ray and operating theatre equipment to some of the world's poorest countries." The Lagan Valley Hospital is one of the local hospitals which has participated in the campaign.
Eric also spoke of the charity's emergency appeal to assist people with disabilities affected by drought and famine in the Horn of Africa.
He said: "CBM-supported local community workers have reported that many families have been living on one meal a day since January. Their situation is likely to worsen in the coming months despite Government efforts.
To donate to the campaign or for more information visit www.cbmuk.org.uk/emergency.
Eric is available to visit churches and community groups to share about the work of CBM and how it is transforming the lives of thousands of people in the developing world.
If you would like to know more please email ericc@cbmuk.org.uk
Ulster Star
16/09/2011