Czech mission for local family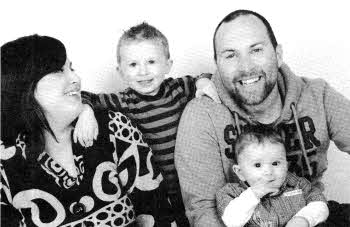 Simon and Hannah Marriott with Joshua and Reuben
A LOCAL family are preparing to leave behind their lives in Northern Ireland to set up home in the Czech Republic.
Simon and Hannah Marriott and their two young sons Joshua and Reuben, are moving to the Czech Highlands to work with Youth for Christ.
Simon, who currently runs businesses in Dromore, will be helping to run the Immanuel Conference Centre, a Christian conference centre and camp, while Hannah, who teaches at Downshire Primary School in Hillsborough, will be teaching English in a nearby school.
"We're going out to the Czech Republic to work with Youth for Christ in a Christian conference centre and camp called the 1mmanuel Conference Centre," explained Hannah. "The location of the centre is right in the middle of the Czech Republic - in between the cities of Prague and Brno.
"We are going to be renting a house in a nearby town called Hlinsko. Simon has been involved since 2008 and sits on the board of the conference centre. He's going to be involved in helping to run the centre and developing outreach programmes from it and I'm going to be teaching some English in a language school in the nearby town Hlinkso.
"We feel that God is calling us to go and pray that He will use us there," she concluded.
A Craft Fair will be held this Saturday (August 27) in Exodus in Railway Street and all money raised will support the Marriott's work with Youth for Christ. The fair, which runs from 10am until 4pm, will feature a wide variety of local handmade crafts.
julieann.spence@ulsterstar.co.uk
Ulster Star
26/08/2011