Rector church warden dies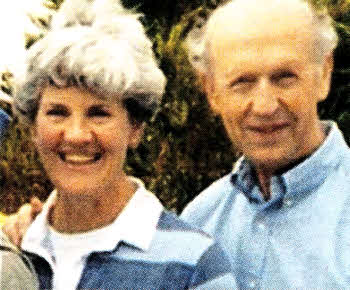 Diana and John McWilliam
TRIBUTES were paid to local woman Diana McWilliam (nee Aldworth) at St Catherine's Parish Church in Aldergrove recently. She died in Crudwell, Wiltshire at the age of 68.
The wife of former RAF pilot John McWilliam (71) who was a sailmaker and champion glider, Diana worked at his sailmaking business and was a rector church warden in England.
The couple met as students at Queen's where she took a degree in French and Anthropology and the pair were married at St Catherine's in 1965.
Their first posting after they wed was at RAF Valley in Wales - where Prince William served - and where John, who was a pilot, flew Gnats. When he was in Phantoms he moved to Coningsby RAF station in Lincolnshire.
When John retired from the Air Force the couple moved to Crosshaven, Cork, then Northern Ireland before they finally moved to Crudwell. Diana was the rector's church warden of All Saints Parish Church where her funeral service took place recently.
After leaving Queen's Diana, took a secretarial course and then worked with John in his sailmaking business.
Her proud husband John said that she was very supportive of his work and past-times.
She was always by my side when I took part in gliding competitions and won a few titles," said her proud husband John. "In Crudwell she helped to raise funds for the lifeboat and loved her parish work."
Diana's brother John Aldworth (72) who lives in Saintfield who along with Diana and brother Michael were brought up on a farm in Aldergrove will be back at the church on Sunday to pay homage to his sister.
"I met old family friends and many people who knew my sister and her husband who attended St Catherine's occasionally when they were based in the province." John Aldworth said.
"We had happy times growing up around St Catherine's and it was appropriate that I returned to old haunts."
Diana is survived by her husband John and two sons Jamie, a banker in Hong Kong (and his wife Anne-Louise) and Tom who manufacturers airfield equipment in Southampton (and his wife Aisling). She also had four grandchildren - Ella, Pippa, George and Lara.
Ulster Star
23/09/2011