Generous Elmwood members prepare shoeboxes for Romania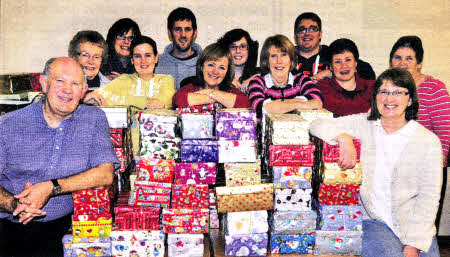 Helpers at Elmwood Presbyterian Church prepare their shoebox presents for Potter House at Timisoara in Romania. US4511-413PM Pic by Paul Murphy
GENEROUS members of Elmwood Presbyterian Church have been busy filling some 450 Christmas Shoeboxes to send to The Potter's House" at Timisoara in Romania.
From small beginnings 10 years ago, when the Cabin Boys of the BB sent 27 shoeboxes, Elmwood now sends 400+ boxes each Christmas. The Shoeboxes are filled with essentials ranging from hats and gloves to soap, face cloths, and other toiletries.
Other items are related to the age of the recipient - colouring books, pencils, and small toys for children, tools for men etc.
The shoe boxes are distributed to all age groups, old and young, including a children's orphanage, a prison for young offenders, and a baby ward in the local hospital.
Elmwood Congregation has a special interest in "The Potter's House" as one of their members, Jill McNeilly has completed several spells there in recent years, and a team from Elmwood is planning to go there in Summer of 2012 to support various aspects of the work, sharing God's love with others in practical ways.
The Potter's House was founded in 2000 by local GP Dr Oana Ciucure. It is a God centred ministry for children and teenagers who come from very difficult and poor family circumstances.
Ulster Star
18/11/2011