`First Steps' for mums and tots takes huge strides
| | |
| --- | --- |
| | |
| Susan, Tina and Jennifer (I-r) with their children at First Steps in Lisburn Baptist | One of three kitchen teams at First Steps in Lisburn Baptist Church. Nora Cathcart, Iris Laird, Violet Scott, Dorothy Elliott, Marie Watson and Irene Rea. |
THE first session of the new 'Mums and Tots' programme in Lisburn Baptist Church Hall concluded last week, but will re-commence after the summer break.
The team from the church, led by the pastor's wife Christine Taylor, believe the effort has been well worthwhile. For them it was rewarding to see the tiny tots play together and the accompanying adults get to know each other as they relaxed on Thursday mornings.
Christine praised those involved. "The team are all voluntary," she said. "They're a fantastic group of girls and gentlemen — we have men who come and do security; who look after the push buggies.
"Then the women - we have a team of helpers in the kitchen who are very faithful in producing coffee, scones, biscuits, tray bakes for the mums. And then we have our team of helpers who are out on the floor who talk to the mothers and build up relationships with them."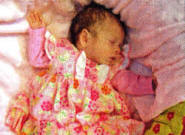 One team member, Pamela Elliott, explained some highlights of the First Steps programme. "There's play dough which the wee ones really love; and they enjoy all the ride-on toys," she said.
"Then every other Week we have a craft time and a sing-along."
She felt that everyone was "mingling very well", not only the little ones and their "mums and dads", but also "grannies, child-minders and carers". All valued the time "just to have somewhere to come and new toys for the kids to play with" and to "meet up with others."
Pamela felt First Steps fulfilled a need in this part of the city. It "got off the ground really well, and we're really delighted with the response."
A thankful mother, Ruth, added: "I think it's brilliant here" — as she kept an eye on her baby and watched her son "playing with the wee tools and wee cars." Adequate facilities mean that up to 40 adults and 50 children have been catered for each week in the spacious church halls suite.
Acknowledgement was given last week to the "ladies in the kitchen, the floor team and men on security" for all their "hard work, endless cups of tea and chair stacking!"
After the summer break, First Steps recommences again on Thursday September 15 at 10am.
Ulster Star
01/07/2011