Young women's talents at `HeART of Peace'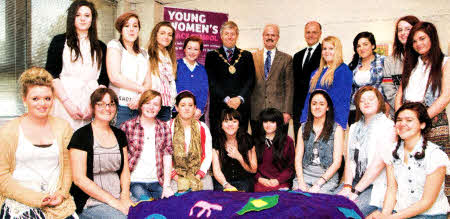 The group at the Island Arts Centre with the Mayor of Lisburn, Councillor Brian Heading and Councillor Thomas Beckett, Chairman of Lisburn City Council's Leisure Services Committee, alongside Jim Rose, Director of Leisure Services.
FIFTEEN young women from the Cohn Area are giving peace a chance in an initiative called 'Young Women and Peace Building'.
The 13-18 year old participants produced a 'HeART of Peace Beanbag', which will be displayed at the Island Arts Centre in Lisburn as part of the venue's summer Children's Arts Festival celebrations.
The artwork includes lots of little pockets containing personalised messages from each young woman such as "I would like a more interwoven society" and "We could walk where we like in our uniforms and feel safe". Positive personalised affirmations also included the importance of friendships and relationships.
The project is organised by the Poleglass Youth Initiatives and YouthAction Northern Ireland. Working alongside Catherine Morgan (YouthAction NI), Lynda Whinnery and Lindsay Hartnett (Youth Initiatives), participants gained exposure to new ideas as well as exploring their own identity and fit within their community as well as imagining what a peaceful future would look like for them.
Unveiling the artwork at the Island Arts Centre, the Mayor of Lisburn, Councillor Brian Heading said:
"The peace of heart beanbag combines the creative energy of these talented young women while seeding the future with their visions of peace. It is a heart warming achievement.
"Most importantly this art project has helped these women understand the significance of the contribution they can make to their own community. I look forward to visitors to the Island enjoying reading the girls aspirations for the future as much as I did."
Ulster Star
24/06/2011