Special service marks 10th anniversary of Hilden Centre

Sunday School children pictured after receiving their 10th anniversary medals. Included are Sunday School teachers Hilary Shaw, Superintendent and Margaret Strong (left) and Lynda McDonald (right)
At a special service marking the 10th anniversary of the Hilden Centre are L to R: Edward Allen (People's Churchwarden), Pat Harvey (former Pastoral Assistant, Sister Myrtle Morrison (Church Army), Canon Ken McReynolds, Mavis Gibbons (Lat Reader) and Libby Gilmour (Rector's Churchwarden).
A special service was held in the Hilden Centre on Sunday 25th September to mark the 10th anniversary of this purpose built worship centre.
The service was conducted by the Rector, the Rev Canon Ken McReynolds, assisted by Miss Mavis Gibbons and Mrs. Pat Harvey.
The guest speaker was Sister Myrtle Morrison (Church Army) who had been on the staff in Lambeg Parish for seven years and had worked with the rector in pioneering the work in the Hilden area.
After the sterling work Myrtle did, Pat Harvey then took over and was on the staff as pastoral assistant for eight years, again with the work of the Hilden Centre being a key part of her role.
The prayers at the service were taken by Hilary Shaw, Sunday School leader, and the Bible Reading was read by Victor McDonald, a member of the ministry team. During the service the Sunday School children, who helped lead the singing, were presented with special commemorative anniversary medals.
After the service the centre was filled to its maximum capacity for a special meal and a birthday cake was cut by Myrtle and Pat.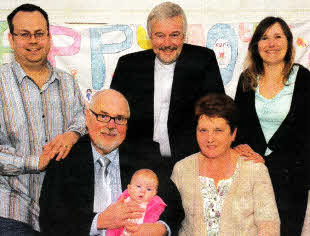 Victor and Lynda McDonald pictured with their daughter Victoria, son-in-law Gareth and granddaughter Sarah-Grace.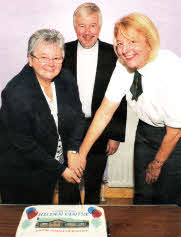 Canon Ken McReynolds looks on as Pat Harvey and Sister Myrtle Morrison cut the 1Oth anniversary cake.
Ulster Star
30/09/2011