Free music festival to bring hope to Africa
Top Christian bands and a host of family events in Moira
by STACEY HEANEY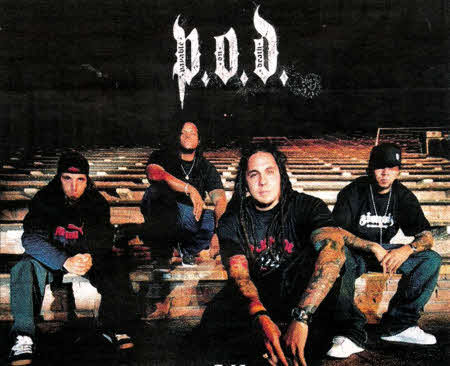 POD who will be appearing in Moira
A CHRISTIAN music and community festival is set to take place in Moira next month, which hopes to raise funds for Megalife's H20 charity project to drill wells in Africa.
The Megalife H20 Festival - Water4life, will take place in Moira Demesne on Friday June 17 from 7-11pm and Saturday June 18 from 2-11pm, featuring a superb line-up of music and family events.
The free admission festival is Megalife's fifth since 2006 and it is set to be their biggest yet, with multi-platinum award winning US Christian metal band P.O.D headlining on June 18 - the last date of their European tour and the band's first Northern Irish gig.
With 15 other bands from Sweden, Norway, England and NI, there are two stages this year, with the main stage being the same one used at the Belsonic festival in Custom House Square, Belfast.
Stage 2 is also bigger this year and in a bigger marquee, which also hosts a fantastic cafe by Pimento, Moira serving Ristretto coffee and all the usual sticky buns. With a Kidz Zone, bouncy castles, soccer cage, stalls and food outlets - there's something for everyone.
The H20 Festival is an alcohol free event and one of the most family friendly music festivals around.
Acoustic Cafe, featuring five bands, will run Friday June 17 from 7pm - 11pm in addition to events all day on Saturday June 18.
H20 Festival's organiser Wilson Archer commented: "We believe in giving to our own communities, but we are also committed at H20 to helping communities further afield. The H20 charity project in 2011, called 1:10 Project, runs in conjunction with the festival. Through voluntary donations at the festival and online we hope to facilitate the drilling of 10 wells in east Africa in partnership with Fields of Life, based in Craigavon. If everyone attending H20 donated £10 we can drill 10 wells and provide safe water for 10,000 people.
"4,000 children die every day due to water related diseases. When we had the water shortage here at Christmas I went to give my child a glass of water and there was no water. He kept saying 'I'm thirsty', and it really brought it home to me.
"Fields of Life are sending an open team to Uganda in August that anyone can apply for. You don't have to be involved or a Church or a group, but it will give people the opportunity to meet new people. One of the reasons I preferred Fields of Life is that it's not just about water, it's about school's, infrastructure; if a young girl has to walk seven miles to get water, she's not going to school. It's also about the health problems that come with that, carrying a heavy load on your head maybe four times each day and the problems with the neck and back."
Wilson added: "This is Megalife's fifth free festival and we love providing a quality family orientated event free of charge. H20 is a festival for the people, to the people, by the people, and we aim to bring a lot of hope without charging the earth.
"I'd also like to thank Lisburn City Council for letting us use Moira Demesne over the last five years, they have been very good to us."
For details about H20 Festival-Water4life, check out www.megalife.co.uk.
stacey.heaney@ulsterstar.co.uk
Ulster Star
13/05/2011