Keith and Kristyn Getty's 'Joy - An Irish Christmas Tour'
takes the USA by storm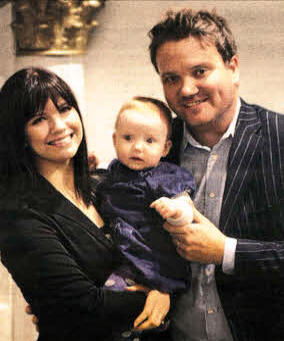 Keith and Kristyn with Eliza
KEITH and Kristyn Getty, acclaimed local modern hymn writers and recording artists, have taken America by storm with their 'Joy - An Irish Christmas Tour'.
Their tour, which ended on December 19, performed 18 concerts across 15 cities around the United States.
Starting in November in San Diego, Keith and Kristyn played to sell-out crowds across the country including Washington, Dallas and Memphis, closing in the prestigious Schermerhorn Concert Hall, Nashville Tennessee, the Getty's adopted US home.
Lisburn man Keith said: "'Joy - An Irish Christmas' is named after our daughter Eliza Joy, who was born earlier this year. It is a collection of modern hymns, traditional carols, reels and jigs and features a host of Irish music stars including Eileen Ivers, Ireland's national choir Attune and the Irish film orchestra. It also showcases a number of bluegrass and session players as well as members of our band from Nashville Tennessee."
'Jesus, Joy of the Highest Heaven, a children's carol featured on the album has just been announced as number one on CMW inspirational music charts.
Keith continued: "We are delighted by how our album tour has been supported across America and that we have been able to share the wonder and beauty of Christmas with so many people.
"We have just recently announced our Celtic Islands Tour which is set to play ten dates across the UK and Ireland including the Waterfront Hall, Belfast on June 1 and 2, followed by the National Concert Hall in Dublin on June 3.
"Kristyn and I are really looking forward to bringing this tour home and playing such great venues across the UK," he concluded.
Ulster Star
30/12/2011