St Paul's rector launches book on 'Love and Joy and Peace'

St Paul's catering team who provided lunch pictured with some of the parishioners who attended the book launch. Included is Stephen McWhirter, Pastoral Assistant (left)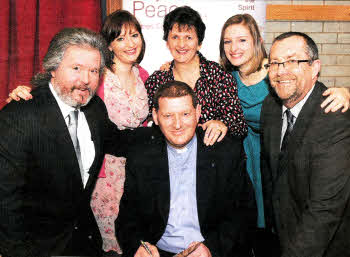 Rev James Carson, rector of St Paul's, pictured signing copies of his book 'Love and Joy and Peace' for churchwardens Chris Orr (left) and Jackie Teeney (right) following morning worship in St Paul's Parish Church on Sunday 20th November. Looking in are James's wife Heather and their daughters Emma and Lisa
THE Rev James Carson, rector of St Paul's Parish, Lisburn, a newly appointed Canon of Lisburn Cathedral, launched his book 'Love and Joy and Peace' following morning worship in St Paul's on Sunday November 20.
Since his Ordination in 1984, James bas served in three Church of Ireland Dioceses, Down and Dromore, Clogher and Connor. James is married to Heather and they have two daughters Emma and Lisa, who is at university in Scotland. He is interested in preaching, teaching and the mission of the church in the world of today. A keen Ulster Rugby fan, James is a regular spectator at rugby games at Ravenhill; be also likes hill-walking and reading.
His devotional book about the fruit of the Spirit from Galatians 5:22-23 - "But the fruit of the Spirit is love, joy, peace, patience, kindness, goodness, faithfulness, gentleness and self-control.
Against such things there is no law." In the book James seeks to give some back-ground on St Paul and the fruit of the Spirit before writing about each in turn, love, joy, peace and so on.
He does this in 12 chapters which are followed up with an individual study on each of the fruit of the Spirit. The premise of the book is two-fold, firstly to make the Bible and Christian writing more accessible to people in an easy to read format whilst also providing a means by which people individually or in a group can go deeper into the things of God and begin to take on these Godly characteristics in their lives.
The book is available from Faith Mission Bookshops and the Good Book Stop, Belfast. Mr Carson will be available to sign copies of his book in the Faith Mission Bookshop on Saturday 26th November from 10.30am.
Ulster Star
25/11/2011