Elmwood team ready for Madagascar mission.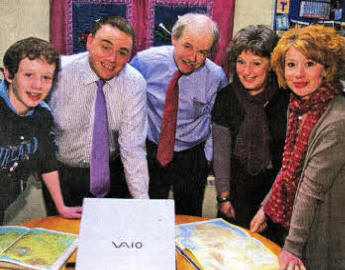 The team travelling from Elmwood to Madagascar. From left to right, Jacob Mulholland, Andrew Thompson, Brian Magowan, Zoe Bruce and Kerry Mulholland.
A TEAM of five from Elmwood Presbyterian Church will travel to Madagascar on April 15 to visit Steve and Lynsey Auld who have been working there with Africa Inland Mission (AIM) since August 2009.
The five, whose ages range from 14 to 61, will stay in Mahajanga where Steve and Lynsey are based for two weeks and will provide pastoral support and encouragement to the couple.
As well as this support the team will bring greetings from the people of Elmwood which is their home congregation. They will take part in the various aspects of the work including worship services and English language classes. They hope that this practical help will allow Steve and Lynsey to relax a little from their busy routine.
While the trip has been organised by Elmwood it follows a suggestion from AIM that a team from the host church should visit the mission couple as they move into the final stages of their overseas service. Steve and Lynsey return home in August this year.
Elmwood has been involved in supporting the couple during their time in Madagascar and want to ensure that they continue to be appreciated as part of their fellowship.
The team's leader Brian Magowan said: "We maybe many many miles apart, but we are still part of one body. We all feel that we have been called by God to take part in this wonderful adventure and we are responding to that call. We are excited by the prospect of supporting Steve and Lynsey and their team and are looking forward with expectation to see how God will use us."
Ulster Star
14/04/2011