Maghaberry Elim hosts successful Bible Week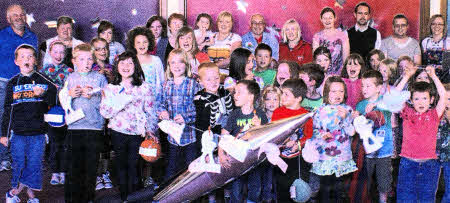 Young people and leaders who participated in the highly successful annual Bible Week at Maghaberry Elim Church.
MAGHABERRY Elim enjoyed a packed church hall each evening for its highly successful annual Junior Bible Week for nursery and primary school age children.
The leaders took the theme of God's Universe and the hall was decorated to look like the stars and space.
The children enjoyed exciting games, interesting Bible stories, challenging memory verse competitions, nightly quizzes with plenty of prizes, and uplifting choruses and Gospel praise songs.
Church pastor, Mr Brian Madden, said: "Yet again, our dedicated team of youth workers pulled out all the stops to compile a very successful annual Bible Week.
"Given the number of children who attended over the five-night event, it is clear that the Elim Bible Week has now firmly established itself, not just as one of our annual church outreach events, but as one of the main summer attractions in the Maghaberry community.
"The well-attended Bible Week followed hot on the heels of our equally successful junior and senior summer schemes for the young people of the locality.
"This culminated in the hundreds of people who came to our annual Family Fun Day in the church grounds.
"The new session of youth activities has now started in the church to coincide with the return to school for the young people, and I extend a hearty invitation to the parents, relatives and guardians of young people of all ages in the Maghaberry region to send therr young people to our range of organisations.
"As a church, we would like to record our thanks to those parents, relatives and guardians for sending their children to our Bible Week and summer schemes, and also to the various leadership teams who made the various activities so successful.
"On Friday evenings, we have the junior youth club, Detonate, which begins in the church hall at 6.30pm. This is followed by the senior youth club at 8pm.
"On Sunday mornings, we have the junior Sunday School, known as JAM, which stands for Jesus And Me, along with the senior Bible Class, known as Toast. "Later in the year, we hope to have a football session at the new community soccer pitches.
"And on Friday evenings, too, our street outreach team, The Soldiers of God, is continuing with its witnessing work in Lisburn and Belfast," said Pastor Madden.
Ulster Star
09/09/2011