Local team prepare for mission to Nigeria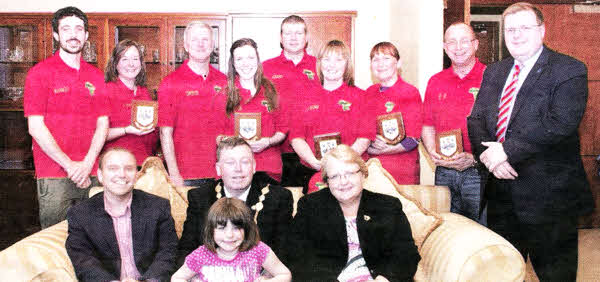 Former Mayor. Alderman Paul Porter held a reception in the Mayor's Parlour on Monday May 23. one of his last engagements as Mayor. for a team from Maze and Ballinderry Presbyterian Churches who are going on a Mission Africa trip to 0gugu in Nigeria from July 1-17- The team will be involved in outreach work including running a Bible Club for Aids orphans as well as maintenance and Aids awareness work at the Mission Africa Centre in 0gugu. The Mayor presented the team with Council Plaques to take as gifts for their hosts. Front Row (from left) is: Rev. William Henry (Minister of Maze and Ballinderry Presbyterian Churches), Mayor Alderman Paul Porter and his daughter Holly, Councillor Margaret Tolerton. Back Row. (from left) Chris Banks. Caroline Patton. George Ellis. Susanna McConville. Jonny McConnell. Jacqueline Swan. Gwyneth Bradley. George Browne and Alderman Jonathan Craig. Missing from the photo is Jill Ellis. Photo by Matthew Browne.
A TEAM from Maze and Ballinderry Presbyterian Churches is preparing for a unique summer experience - a mission to Nigeria with Mission Africa.
The team of seven. led by Chris Banks, a Belfast student who has visited the Ogugu region in Nigeria on two previous occasions. will visit Nigeria from July 1 to 17 for the mission. which will see the group working with local orphans. holding a Holiday Bible Club. as well as delivering AIDS awareness to people in the area.
The team have raised over £4.500 for the trip. which will not only bring each member of the team to Nigeria. but will allow them to buy books for the children and provide party bags for the Kids Club the team will run for over 120 children.
The local team of Jacqueline Swan. Gwyneth Bradley. Caroline Patton. Jonny McConnell. George Browne and Jill and George Ellis will also leave money for the Advance Project. a scheme set up by Mission Africa in 2006. which is run by missionaries Billy and Linda Abwa.
The Advance project trains people in the churches how to educate people about AIDS.
how to test and counsel people who might be infected. and how to care for people living in their community who are suffering with HIV. This is work the group will carry out during their mission. travelling to villages and Churches to assist with medical outreach programmes. as well as spreading AIDS awareness to local children.
Speaking ahead of the mission. team member Caroline Patton said she is both "excited and nervous" about the trip.
Caroline said: "I haven't done anything personally like this before so I'm very excited. but there is also some nervousness about going to a new country and new culture."
The team have raised a tremendous amount of money through a variety of fundraising initiatives and Caroline was keen to thank those who have supported the team for their generosity and support.
"We raised funds through a clothes collection at the Church where a company gave us money per ton and we actually collected 1.799 tonnes. which was amazing. We held a Victorian Coffee Morning and a bag pack in Tesco in Lisburn. as well as receiving a few sizable donations" she said.
The team visited the Mayor's Parlour on May 23. when former Mayor Alderman Paul Porter held a reception for them and presented them with plaques to take to Nigeria.
Caroline added: "I'd like to thank the Mayor's office for giving us the plaques to take with us. they were really obliging. Also the people in Tesco were very generous and the Church for their prayers and support."
Chris Banks. the team's leader for the mission. spent six months in Ogugu during his gap year after learning about Mission Africa at his school's Scripture Union. and this will be his second visit since then.
Speaking about leading the local team. he said: This will be great for them. The people are so friendly. they will be blown away by the culture. I'm really looking forward to going. I can't wait. it's not that long now."
stacey.heaney@ulsterstar.co.uk
Ulster Star
03/06/2011