Health Minister praises counselling scheme
for Lisburn's Young people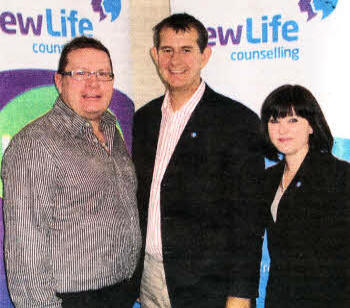 Health Minister and Lagan Valley MIA Edwin Poots visiting Fusion Lisburn where a new youth counselling service has been launched in partnership with New Life Counselling. Minister Poots is pictured with NLC Chief Executive Karen Collins-Neill and Keith Neill, Youth Outreach Co-Coordinator, Fusion.
HEALTH Minister Edwin Poots recently met with New Life Counselling at Fusion in Lisburn, where a new counselling service has been launched to support young people.
New Life Counselling has teamed up with Fusion, one of the largest youth projects in the UK, providing counselling support for young people. The service involves supporting young people with personal development issues, self-harming behaviours, drug and alcohol abuse, bullying, depression, anxiety and suicidal thoughts. Young people access the service through Fusion, based at Lisburn Cathedral.
New Life Counselling's Chief Executive Karen Collins-Neill explained: "Fusion Lisburn approached us when they identified the need for counselling provision in the area.
"We are delighted to partner with them to deliver counselling and therapeutic services specifically developed for young people.
"It is vital that all our young people can access the support they need in an environment in which they are comfortable. There is overwhelming medical evidence that counselling promotes mental well-being and helps people to learn new and positive ways to deal with difficult feelings, preventing long term mental ill-health or loss of life.
"We were very pleased to welcome the Health Minister to Fusion and encouraged by his obvious commitment to promoting the mental health and well-being of our young people."
Mr Poots said: "I was delighted to have the opportunity to spend some time with the New Life Counselling and Fusion Partnership, and to hear first hand of the excellent work that is taking place in the Lisburn City Council Area.
"It is comforting to know that with so many vulnerable young people in our society we have an organisation that works tirelessly to help address many of the issues that the youth of our society are facing on a daily basis in a supportive and safe environment."
Ulster Star
23/09/2011