Maze Presbyterian Church goes wild with 'Pandamania'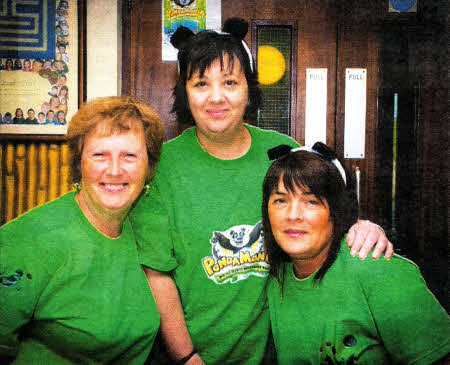 Pandamania leaders Ann, Kay and Jennifer.
MAZE Presbyterian Church hosted two exciting youth events recently - 'Pandamania ' for 3-9 year olds, and 'Go Wild' for 10 years up. 100 kids enjoyed a variety of activities at 'Pandamania, all of which proved very popular. Every night they watched Movie Mania - a dvd serial, made delicious food at the Treetop Treats and played Bamboo Blast games, where all the leaders often seemed to end up very wet. In Wild Bible Adventures they had an interactive experience with a Bible story, even climbing inside the fish that ate Jonah. 'Go Wild', with numbers averaging around 40, involved talks and testimonies, praise with the youth band, bush tucker trials and games outside, including the teenagers' favourite activity - a very slippery water slide.
The leaders were delighted with the response from the kids each night as they interacted with God's word and learnt to see how God is actively involved in every aspect of their lives.
Ulster Star
08/07/2011