Prayer Space opened in Bow Street for Christmas
Clergy from some of the eight churches at the opening of the 'Prayer Space'. L to R: Rev Simon Genoe (Lisburn Cathedral), Rev Paul Dundas (Christ Church), Canon Sam Wright (Lisburn Cathedral, Pastor George Hilary (Lisburn Christian Fellowship), Rev John Brackenridge (First Lisburn Presbyterian), Rev Brian Gibson (Railway Street Presbyterian), Rev Brian Anderson (Seymour Street Methodist) and Rev John Pickering (Christ Church).
UNDER the title of A place of peace on earth at Christmas', seven city centre churches and Legacurry Presbyterian have come together; and thanks to a generous offer of premises organised by Lisburn City Centre Management, a prayer space has been created during the Christmas shopping period at the former Chittick's shop in Bow Street, Lisburn.
The initiative will operate until Friday 23rd December from 10.00am to 5.00pm Monday to Saturday with late nights Thursday 15th and Friday 16th and Thursday 22nd and Friday 23rd when it will be open until 8.30pm and also on Sunday afternoon 18th December when it will be open from 2.00pm to 5.00pm.
The idea is twofold - firstly to create an oasis of tranquility during the hectic season and secondly to help people remember that the birth of Jesus is the real reason for the season. Members from the eight participating churches will man the space and trained and sensitive people will be available to pray with anyone who asks.
The 'Prayer Space' was opened and dedicated by the Rev Brian Anderson (Seymour Street Methodist) on Saturday following the Christmas Carol Service at Lisburn Square.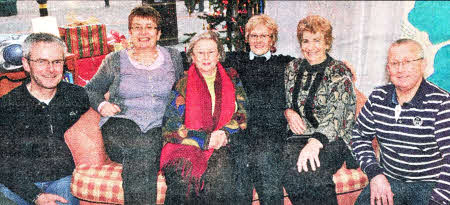 Relaxing in the 'Prayer Space' following the official opening are L to R: Jonny McGeown, Evelyn Whyte, Maureen Baird, Robina Urey, Inez Price and Gordon Dickson.
Ulster Star
16/12/2011