Railway Street gets crafty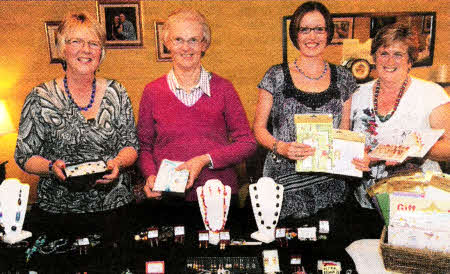 L to R: Carolyn Gowdy and Bertha Cowan (Railway Street Fundraising Committee), Suzanne Reid (Phoenix Cards) and Margaret Artt (Railway Street Fundraising Committee) pictured at a recent sale in aid of Abaana African Children's Charity and the Cancer Treatment and Research Trust.
THE Fundraising Committee of Railway Street Presbyterian Church have come up with a 'crafty' idea to help with all your Christmas gift concerns.
They have invited along a large number of talented craft-makers to sell their wares at a Craft Fair in the Church Hall on Thursday November 10 from 7-10pm.
Speaking on behalf of the fundraisers, Carolyn Gowdy said, "With Christmas approaching we are beginning to feel really excited about this event, a first for Railway Street. So many superb crafters have agreed to take a stall, with products ranging from pottery, woodwork, hand-sewn soft furnishings and handbags, designer knitwear, jewellery, toiletries, stationery, chutney and
relishes, and of course lots of home baking.
"We are particularly pleased to be selling the designs of Andrea McCullough-Alderdice from the Island Arts Centre and the award winning produce of Baked in Belfast. Now all we need is for the people of Lisburn and surrounding district to come along and take advantage of the many fabulous items on offer."
The Craft Fair is open to everyone, with admission (including refreshments) costing £3 for adults, £1 for students and children under 12 free.
If it proves popular, the Committee would hope to make it an annual event in aid of the refurbishment of Railway Street Church building.
Ulster Star
04/11/2011