Moira rector is appointed Archdeacon of Dromore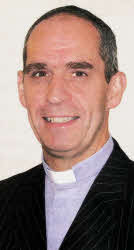 THE Rev Canon Roderic West, rector of St John's Parish Church, Moira, bas been appointed Archdeacon of Dromore in succession to Ven. John Scott who retired recently as rector of Seapatrick Parish Church, Banbridge.
Mr West, who was installed as Canon on the Chapter of Dromore Cathedral in April 2005, was subsequently installed as Chancellor in November 2008. Canon West will be installed as the new Archdeacon of Dromore, tonight, Friday 25th November in Dromore Cathedral at 8.00pm.
The Archdeacon is second only to the Bishop in the hierarchy of the Diocese, though second also to the Dean within the Cathedral Chapter. As such, be will be installed by Dean Stephen Lowry and supported by the Bishop of Down and Dromore, The Right Revd. Harold Miller. The preacher at tonight's service will be Canon Terence Cadden, Precentor of the Cathedral Chapter. The Ven Roderic West will continue as rector of Moira Parish.
Ulster Star
25/11//2011