Stoneyford's new minister bids farewell to old parish
by EDDIE MCILWAINE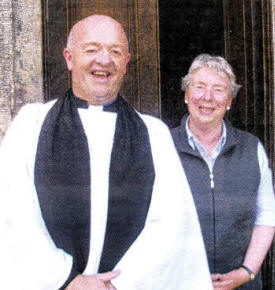 Rev John Farr and his organist mother Peggy
IT WAS a moving occasion in more ways than one for the Rev John Farr at a special evening service in Gartree Parish Church on the Lough Neagh shore near Crumlin last Sunday night.
For the parishes of Gartree, St Catherine's at Killead and St Jude's at Muckamore, where the Rev William Orr is rector, were saying farewell to John, their training curate for the past four years as he moves to Stoneyford Parish where he will be in charge and where he has already established himself in the pulpit.
To set the seal on that move between churches the Rev Orr presented John with a portable communion set in silver as a token of appreciation from the three parishes he is leaving behind.
But what made the service on a beautiful summer evening especially moving in another way was the presence of the Rev Farr's mother Peggy who is regular organist and choir leader in St Catherine's, at the Gartree console.
She and the choir led the praise with a special arrangement of The Lord's My Shepherd.
"It was special having my mum at the service and emotional too," said the Rev Farr, baptised in Glenavy parish, who was a farmer until the church called and he went off to study with the Church of Ireland. He still owns 10 sport horses and works on the land when he finds the time.
"Some well meaning friends questioned if it was right for me to become a clergyman, but I was able to tell them that, yes, it was because I had received a calling from above," he explained.
"Sincere friends have helped me to avoid the dog collar syndrome. This is an affliction which sometimes strikes a newly-ordained minister who becomes too pious just because he is now a Reverend."
The years between have not been easy for the Glenavy man who has a 16-year-old daughter Victoria, because he was preaching just down the road from home at Muckamore, Killead and Gartree when he might have been expected to be moved for his clerical training to a district in a different county.
That is why one of his favourite Biblical texts has always been the New Testament quotation that declares: A prophet is not without honour, save in his own country and in his own house."
But the farmer turned preacher has already established himself as a voice for good in Stoneyford and Gartree, St Catherine's and St Jude's parishes are sorry to lose him.
Ulster Star
08/07/2011