50th anniversary of Rev McConaghy's Ordination marked at services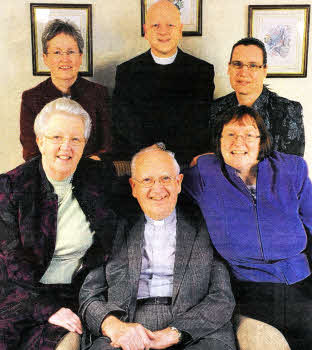 Rev David McConaghy with his wife Maxine and their three daughters Heather, Christine and Sheila. Included is the present minister, the Rev Leslie Patterson. The photo was taken in their home at Anahilt on Sunday morning prior to conducting services at Cargycreevy and Loughaghery Presbyterian Churches marking the 50th Anniversary of Mr McConaghy's Ordination.
MEMBERS of Cargycreevy and Loughaghery Presbyterian Churches held special services last Sunday morning to mark the 50th Anniversary of the Ordination of the Minister Emeritus of the united charge, the Rev David McConaghy.
Mr McConaghy conducted worship in both churches, preaching on the text, "If anyone would come after me, he must deny himself and take up his cross daily and follow me". Both congregations marked the occasion by presenting Mr. McConaghy with a personal gift, and by making a contribution on his behalf to the Livingstonia Theological College in Malawi for the training of ministers.
Third of a family of four (three boys and one girl) to parents William and Elizabeth McConaghy he was brought up on the family farm and attended Toberkeigh Presbyterian Church. He married Maxine Patton in 1962 and they have three daughters - Heather, Christine and Sheila.
After attending Trinity College, Dublin, Mr. McConaghy graduated Bachelor of Arts in 1958, after which he completed theological studies at Edinburgh (1958-59) and Belfast (1959-60). In September 1959 he became Student Assistant in Hamilton Road Presbyterian Church, Bangor where the minister was Rev David Burke, who sadly died a few weeks ago in March 2011.
At a special service in Toberkeigh, on 22 May 1960, Mr. McConaghy was licensed to preach and became the thirteenth member of the congregation to enter the full-time ministry. On 26 March 1961 he was ordained as Assistant Minister in Hamilton Road Presbyterian Church. He served as
a missionary with the Church of Central Africa Presbyterian (the CCAP) in Malawi and Zambia from 1963-1971.
Cargycreevy and Loughaghery congregations were united in 1971 and Mr. McConaghy was installed as the first minister of the united charge on 23rd February 1972. He retired on 30th April 2002 and was succeeded by the present minister, the Rev Leslie Patterson.
Now Minister Emeritus of Cargycreevy and Loughaghery, Mr McConaghy lives in Anahilt and attends Hillhall Presbyterian Church, where Maxine was Church Organist from January 2007 to May 2010.
Since retirement, Mr. McConaghy has been doing part-time work as Pastoral Assistant in First Saintfield Congregation and has enjoyed helping there and also taking services in various Churches around County Down.
During his 30-year ministry at Cargycreevy and Loughaghery, a new kitchen and committee room were added to Cargycreevy Church Hall in 1995 and, at Loughaghery, a choir room and minister's room were added in 1981 and a new church hall, built on the site of the previous wooden one, was opened on 3rd June 1989 by Mrs. Elizabeth Meikle from Scotland (daughter of a previous minister). The Pipe Organ, which had been installed in 1950, was replaced with an Electronic Organ in 1999.
The McConaghys look back with happy memories of their thirty years in Cargycreevy and Loughaghery and are grateful to God for the privilege of living and working among such friendly and helpful people in such a lovely part of County Down.
Ulster Star
01/04/2011