New minister is appointed for St Columba's in Derryvolgie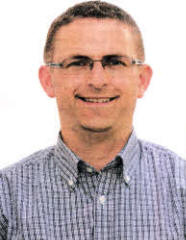 Rev Stephen McElhinney
A SERVICE of introduction will be held on Tuesday September 6 at 7.30pm for the Rev Stephen McElhinney, curate of Drumglass Parish, Dungannon, who has been appointed priest in charge of St Columba's, Derryvolgie. He succeeds the Rev Donna Quigley who was instituted in November 2004.
The 41-year-old former Lisburn man is the son of Cyril and the Rev Liz McElhinney.
His father Cyril was actively involved in parish redevelopment initiatives around Ireland. His mother Liz, formerly a Secondary School Teacher at Portadown Technical College, was ordained in 1997; she was Curate at Magheralin Parish (1997-2001), Rector of Calry Parish, Sligo (2001-2007) and is still actively involved with speaking engagements.
The family were living in Manchester when Stephen was born but a few years later, in 1973, they moved to Lurgan where Stephen attended King's Park Primary School before progressing to Lurgan Junior High (1981-1984) and Lurgan College (1984-1988).
He attended Aston University (1988-1991) where he graduated in Optometry. Following two years working in the North of England, Stephen returned to Ireland to complete a voluntary year in Cork (1993-1994). He lived in Hillsborough (1994-1996) and in 1996 married Brookfield Special School teacher Cathy Suffern, from Ravarnet. One of the highlights of his life was in 1997 when both he and Cathy travelled around the world for a year. They now have three children Ruby (10), Patrick (9) and Scott (5).
Stephen and Cathy lived in Lisburn (1999-2002) and were members of Lisburn Cathedral. After sensing a strong call to train for the ministry Stephen attended The Church of Ireland Theological College, Dublin (2003-2005) where he graduated Bachelor of Theology.
Stephen was ordained in Christ Church Cathedral Dublin in June 2005; and it is interesting to add that it was the first time a son was ordained in the Church or Ireland whose mother was also an ordained Church or Ireland minister. Following his ordination he served as a member of the staff team of Kill O'The Grange Parish Church, Dublin before moving in May 2008 to his current position as curate of Drumglass Parish, Dungannon.
Stephen enjoys the outdoors, cycling, windsurfing, sailing, paddling and hiking. His passion is Jesus and to know Him better and likes nothing better than to get alongside people and finding out together how Jesus can help them live life to the full.
He is looking forward to his return to Lisburn where his main priority will be getting to know the people from Derryvolgie Parish and the local community.
Speaking of Stephen's move to Lisburn, the Rev Andrew Forster, rector of Drumglass Parish said: "Many of our parishioners have commented on how sad they are to hear that Stephen will be moving onto pastures new. During his trme with us Stephen has endeared himself to many as a sensitive and caring pastor who has worked hard 'for the sake of the gospel in this parish. Our loss is certainly Derryvolgie Parish's gain and we wish him, Cathy, Ruby, Patrick and Scott God's richest blessing in this new phase of ministry."
Ulster Star
29/07/2011