Lisburn Reformed Presbyterian Church welcomes assistant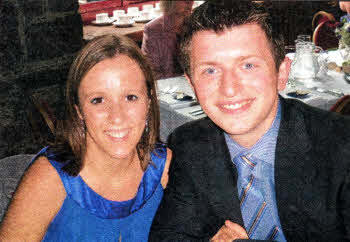 Robert and Emma McCollum.
LISBURN Reformed Presbyterian Church has welcomed Robert M McCollum as an assistant for a period of six months.
Robert is the nephew of Prof Robert McCollum, who has been the minister of the congregation on the Nettlehill Road, Ballymacash since 1982.
Robert comes to Lisburn along with his wife Emma, who is in her final year of dentistry at QUB. He was educated at Dalraida Grammar and Queen's University, where he studied music.
After graduation he obtained a Post Graduate Certificate in Education at the University of Ulster at Coleraine. He gained his Diploma in Theological Studies after three years at the Reformed Theological College, Belfast. During his theological training he had opportunity to gain pastoral experience during student placements in Letterkenny RPC and in Newtownards RPC.
In the Lisburn congregation Robert will be involved in a wide variety of pastoral responsibilities eg preaching, pastoral visitation, home Bible studies, youth work and personal evangelism. He will preach at each of the monthly guest services from September to March (1st Sabbath evening of each month) on Christ's sayings from the Cross.
Robert will also be preaching sermons from the book of Genesis which will include: Creation, Marriage, Sin, Salvation, the Flood and God's eternal Covenant of Grace. Robert commented: "I am looking forward to the challenge of this experience and I'm excited about working in the Lisburn congregation. Not only do I hope to get to know the members of the congregation but also many people in the Lisburn community."
Prof McCollum said that both he and the members of the congregation were thrilled about Robert and Emma's placement and believe that they both will make a valuable contribution to the work and witness of the church.
Ulster Star
02/09/2011