Salvation Army New York band brings music to the city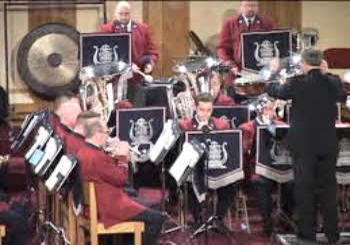 THE Salvation Army brought their distinctive brass music to the The Island Centre recently when members and friends of The Salvation Army from across Ireland gathered to hear the special musical ministry of the famous New York Staff Band.
Mayor of Lisburn, Councillor Brian Heading, attended morning worship and joined the band for lunch. He presented a plaque of the city and after official welcomes and lunch, was delighted to hear the band perform in the Island Centre entrance hall.
Speaking of his morning, the Mayor said: "I have found this morning's service very uplifting and have really enjoyed your musical Ministry and wish you well for the rest of your tour of Ireland and the UK."
Alderman Allan Ewart and his wife were also guests at the afternoon meeting.
The band, regarded as one of the most technical and professional Salvation Army bands in the world, came to Lisburn on the third day of their week long tour of Ireland.
One band member, Dorothy Gates, Choral Leader, was delighted to be back home in Northern Ireland and have an opportunity to catch up with her Mum. Dorothy grew up in Belfast and was a student at Oueen's University when she went to New York on a one year music scholarship.
Dorothy has been in America for over 20 years and was invited to become a member of The New York Staff Band nine years ago.
Executive Officer of the New York Staff Band Lt Colonel Kenneth W Maynor said, "The Band has experienced profound hospitality so graciously expressed from warm hearts who have welcomed us so beautifully to Northern Ireland. It is our sincere prayer that through music and fellowship, there will be a sense of strength and renewed commitment to our Lord and redeemer Jesus Christ."
Ulster Star
17/06/2011