Sharron King packs Maghaberry Elim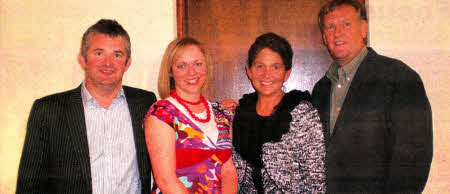 Top American Country Gospel singer Mrs. Sharron Kay King, right, is joined at Maghaberry Elim by, from left, Pastor Brian Madden; joint worship leader Mrs. Sharon Hodgins, and Mrs. King's husband, Joe.
INTERNATIONALLY renowned Country Gospel female singer Sharron Kay King recently packed Maghaberry Elim Church to overflowing as part of her Northern Ireland tour.
Mrs. King, from Georgia in the United States, and one of Nashville's leading recording artists, performed a hugely inspiring and wide selection of well-known Country Gospel songs as well as a range of her own original material. She also gave an emotional and heart-rendering testimony of how Jesus Christ had saved her from 13 years of drug and alcohol addiction. Mrs. King revealed to the congregation that she would shortly begin work on a book about her life story. One of the evening's highlights was when solo artist Mrs. King joined up with Maghaberry Elim's joint worship leaders Mrs. Sharon Hodgins on piano and Mr. Morley Bradford on guitar to perform some of her latest original material.
The concert was chaired by Maghaberry Elim pastor, Mr. Brian Madden, who also gave a very spiritually challenging sermon based on the New Testament text of St John Chapter 15, verse 13. He used the example of the contentious Mel Gibson film, The Passion of The Christ, to explain how Jesus had died on the Cross for man's sin.
After the concert, Mrs. King spent time chatting to members of the congregation about her musical and preaching ministry throughout the world.
Pastor Madden added: "People have been really blessed by Sharron's ministry and message. Her concert is just one of a number of outreach events we have planned for the people of the village and surrounding area.
"The children of the Sunday School and the junior youth club, Detonate, recently had their annual outing. Earlier this week, the women of the fellowship held their annual dinner.
"This coming Saturday and Sunday, we will be holding a series of events to raise funds to build two hospitals in Malawi as part of our missionary weekend. And most weekends, our street evangelism team, known as the Soldiers of God, tour the local housing developments to bring Christ's Message to people.
"During the school holidays, we will be holding our annual Bible summer scheme for children and young people. You can find out more about our church's activities by visiting our website at www.maghaberryelim.com," said Pastor Madden.
Ulster Star
24/06/2011