Songs of Praise at Hillsborough Parish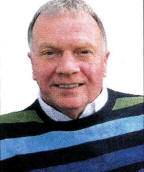 Norman Houston (Housty), organiser and compere.
HILLSBOROUGH will be 'alive with the sound of music' on Friday December 2 at 7.30pm when the beautiful historic St Malachy's Parish Church, Hillsborough will be the idyllic setting for a great evening of 'Songs of Praise'.
The evening of old traditional hymns and choruses is the brainchild of organiser Norman Houston (Housty) and his wife Mandy.
Norman, together with local TV personality John Daly, will compere the programme with hopefully a packed congregation lifting the rafters as they sing their hearts out. Jonathan Houston will preside at the Snetzler organ and Julie Bell on piano. Also taking part will be: Norman Houston (Housty), Garvey Silver Band, Castlewellan Accordion Band, Nicola Prentice (Soloist), William Wallace (Piper), Brian Houston (Flautist) and Choral Group - Sarah, Jessica and Eleanor.
Ulster Star
25/2011