St Pauls set for `church push' to raise money for building team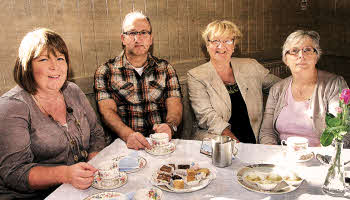 Lisa Kennedy, Garvin Jess, Marti e Kennedy and Margaret Quigley having a snack during the cake sale and coffee morning at Lisburn Cathedral. US3811507cd
ST PAUL'S Church Lisburn are having a street collection on Saturday October 1 to raise money to build a church in Imbericani Kenya.
The 'church push' starts at 10.30am from St Paul's, going into the city and all around the main streets.
At the last collection £1,642 was raised with a well push to raise money to install a well at the Oloosuyian Girls School.
The total money needed was £10,000. This was raised and the well is now up and running with a new pump house.
The new church to be built in Imbericani will be called St. Paul's which is a great honour to the people of Lisburn and indeed St Paul's, Lisburn.
The building of the church will start in January 2012 and should be composed by June/July of 2012.
A team from St. Paul's will be helping to finish the building of the church and celebrating the opening in June/July 2012. This will coincide with the 50th anniversary celebrations of St. Paul's in Lisburn.
The Church would like to give special thanks to the shopkeepers in Longstone Street, Chapel Hill and Mackevs Bakery Antrim Street for their donations towards the well push and especially for the hospitality received from their brothers and sisters in St. Patrick's Pastoral Hall at the chapel who are very kindly supporting them in their endeavour to raise money to build this new Christian church.
Lisa Kennedy, Garvin Jess, Marti e Kennedy and Margaret Quigley having a snack during the cake sale and coffee morning at Lisburn Cathedral. US3811507cd
Ulster Star
23/09/2011