House of Vic-Ryn to host an intimate evening with The Ball Brothers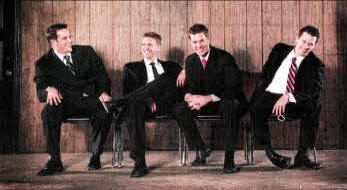 ON Friday May 27 The House of Vic-Ryn will be the host venue for an intimate evening with Southern Gospel's best up and coming group, The Ball Brothers.
For £35 you will enjoy a two course evening meal, a donation to 'Friends of the Cancer Centre' and a ticket to see the Ball Brothers perform in a full concert the following Tuesday (May 31) at the Armagh City Hotel.
This is a wonderful opportunity to enjoy great food and to be entertained by some of the most talented vocalists in Southern Gospel. Tickets are available from The House of Vic-Ryn, Moira Road Lisburn.
The Ball Brothers are four real life brothers based in Central Illinois, USA. They are a close harmony vocal group that primarily sings Southern Gospel material. Their youthful presence coupled with an incredible grasp of harmony established them firmly amongst Gospel Music's top names and propelled them to new heights. This included an opportunity to open for the Grammy-nominated, Dove Award-winning quartet Ernie Haase & Signature Sound on a recent summer tour across America.
In addition to the 'Intimate Evening at The House of Vic-Ryn', the Ball Brothers are also staging three other concerts across Northern Ireland - Thursday May 26 at Glenmachan Church of God, Belfast, Saturday May 28 at Ballymoney Elim and Tuesday May 31 at the Armagh City Hotel. All concerts start at 7.30pm and tickets are priced £12.
For more information on this event, the other Ball Brothers dates and the opportunity to buy tickets, visit www.southerngospel.wordpress.com and click the 'Ball Brothers NI Tour' tab.
Ulster Star
06/05/2011