Jenny Munro talks to Alison Crawford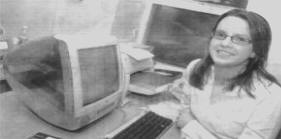 ALISON Crawford 25 from Clogher is a Health Development Worker at the Down Lisburn Health and Social Services Trust. Alison studied at the University of Dundee where she obtained an MA Hons Degree in Food and Welfare Studies. She spent the third year of her studies on an exchange programme at the School of Nutrition in Ryerson Polytechnic University, Toronto.
Alison's post is designed to develop and deliver a wide range of initiatives that will have a direct impact on the improvement of health and well-being within marginalised communities in the Lisburn area. She is one of five Health Development Workers based at Lisburn Health Centre.
Before obtaining her current post Alison worked as a community food worker and a health promotion officer. She is a big fan of travelling and last year Alison spent time in Australia, Singapore and Bali.
I leave my house around 8am. I have flexible hours - I work evenings and weekends too. I start most mornings 9.15-9.30am to miss the traffic.
Everyday is different. Some days I head directly to my office in Lisburn Health Centre or I may have a meeting to attend first thing in the local area.
When I reach the office I check my emails and talk to my boss and the other health development workers.
I have only been in my current post for six months so I am still trying to establish links in the community.
I am expected to develop activities focusing on the needs of marginalised communities. I work towards the `investing for health strategy', which aims to improve health and wellbeing and to reduce inequalities in health.
In my role I work closely with local community workers, partner organisations and other disciplines from the community. statutory and voluntary sectors.
My purpose is to identify local health and social needs and priorities. I agree and develop agendas for action on health improvement.
I am continuously designing, developing and delivering initiatives. I also have to evaluate and monitor ongoing activities. I ensure the needs and priorities of local communities are reflected in the Health and Well being Investment Plan.
I meet representatives from local groups. I will advise local organisations on the needs and opportunities emerging in the area and then I will represent the views of the groups.
Most days I interact with marginalised communities in the area. I try to develop programmes to meet the needs of groups including ethnic minorities and travellers. It is very hard to know their health needs so I organise events, which try to bring people from certain groups together.
It is my job to educate and inform people to make healthier choices. I arrange health programmes, which are delivered to a range of organisations within the community. These include cooking programmes, healthy eating advice, basic food hygiene, physical activities, smoking cessation advice, sexual health awareness and parent support programmes.
Whenever I have a quite moment I will eat a sandwich for lunch and maybe take a walk in the city centre to clear my head.
The afternoons can be busy. I respond to emails and I may be involved in talks, workshops, and activity development programmes. I have to attend meetings with the main funders of the Trust to give them feedback every month on how we are meeting people's needs.
I prefer to leave later in the evening so there will be less traffic on my journey home. When I get home I like catching up.
Ulster Star
13/01/2006