Jenny Munro talks to Bill McCorry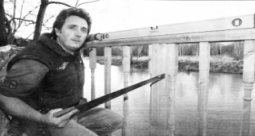 BILL McCorry, 36, is the proprietor of `Down to Earth Landscapes'. He lives in Lambeg with his wife Karen and children Ryan and Neysha.
The landscape business was established in 2004 after Bill was made redundant from Montupet. He had worked in landscaping before so this was the perfect opportunity to start out on his own. Bill is also a talented joiner.
Some mornings I am awake from as early as 5am. It just depends on what time the children wake and what work I have on.
The kids get ready for school and then I drop them off. Being self employed is great as I can work around my family life. I'll either go to a client's house to work on a project or will order up and collect materials and supplies. I work totally on my own and try to concentrate on one job at a time giving 100% attention to it.
In the summer there is usually a waiting list of 12-14 weeks and in the winter it is 8-9 weeks. My business definitely revolves around word of mouth.
If the client is happy they will use me again and tell their friends and family I find people like to get me to landscape their gardens in the winter so, come the summer time, they can enjoy their garden.
When a potential customer gets in touch I find out what it is that they would like done. Then I arrange with them a time and date for me to meet and have a look at their garden. Once I've done this I make a note of what they want and any special requirements before working out a quote and a special 2-d or 3-d plan on a computer package.
I show this plan to the clients and give them an idea of what their garden will look like after I have finished. If the customer is satisfied I arrange a date for the work to commence.
The type of work I do includes: designing and creating patios, decking's, canopies, creating a new lawn, flagging, cobbling, decking, fencing, planting or adding water features.
I work with my clients to bring their ideas to reality by mixing the subtle blend of hard landscaping and soft planting schemes.
I am finding that more people prefer a low maintenance garden and will ask for trees, which don't shed a lot of leaves, or for plants that bloom all year. It is my job to try and facilitate them as best as I can and give them what they want.
When I am about to start a new job I go out and buy the relevant materials and prepare the ground. I like to work on a blank canvas. I enjoy working in the summer as the long days and good weather makes my job so much easier. However, I still have a lot of work in the winter months so I just put up a gazebo and get on with the work.
I am a member of various professional landscaping organisations and regulated bodies so my customers can be assured of a good job being carried out. Safety is always at the front of my mind when I am working and I am constantly assessing the risks throughout any job I undertake. Occasionally, when I have the time, l do odd jobs for my friends and family but as the business is getting busier I don't have a lot of spare time.
In the evenings I like to have dinner with my family. The time I get home depends on how well a job is going.
Occasionally in the evenings I might have to go out to see people who would like to discuss landscaping their garden. When I get home I enjoy finding out how the children's day has been. Once they are in bed I spend at least an hour chatting and relaxing with my wife before going to bed around 11pm.
Ulster Star
15/12/2006