Jenny Monroe talks to Brian Elmore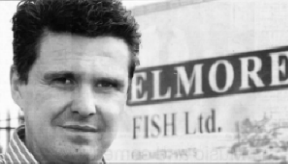 BRIAN Elmore 38, runs Elmore Fish Ltd. with his brother Adrian. The brothers are now the fourth generation in the business which was established in 1896. Their father Denis Elmore - a highly respected fish merchant - is now semi-retired.
The business is based at Springbank Industrial Estate in Dunmurry where a new factory has been recently built. The Elmore brothers supply local restaurants, hotels, fish and chip outlets and supermarkets and also export fish around the world.
Brian is married to Aine and they live in Lisburn with their four children. The local businessman left school after completing his A-Levels and spent two years working as a Civil Servant before going into the family business.
Most mornings my phone rings at 6.30am. The fresh fish agents will be calling from the auctions, which take place all over the UK.
There are four of us who deal with the agents on a regular basis. The fish lands in the ports very early and the agents phone to inform us what fish is available and get the prices we are willing to pay. It
all comes down to supply and demand and the weather. Fish prices could rise by 25 or 30% in the space of four hours and we have to be careful not to order too much or too little.
I tell the agents what I want to pay and what quantities are required that particular day. You really would need a crystal ball in this industry as some weeks certain fish is plentiful and others they are scarce.
Once I've spoken to the agents I get ready for work. Some mornings I take my eldest son Jason to school in Belfast and then head to the factory where the first thing I do is check faxes and emails for more quantities and prices of fish for sale.
At this stage I can still direct the agents to buy for us in case we need to make up for any shortfalls. Then I spend time getting transport arranged before having a sales meeting and discussing what has been bought, what fish is available and what the expected times of deliveries are. This enables us to inform our clients what we have for sale that particular day. I might start phoning restaurants and speaking to the chefs to let them know what fish are available.
When the deliveries arrive the fish is taken off the articulated lorries and sorted out in the factory. Whole fish from the boats will be processed and that includes gutting and filleting before boxing them in ice.
Once the fish is ready our own vans will make a start on deliveries around the province.
We also supply exotic fish so companies dealing in this line will let us know what they have for sale. I get a general idea of what the customers require and then place orders. The exotic fish is air freighted and then driven by lorry to the factory. I might also speak to the frozen fish suppliers and put in orders.
There isn't a job that I can't do in the factory. My father taught my brother and I well.
I am heavily involved with the general running of the business with my brother. I help oversee quality control as we must adhere to strict health and safety guidelines. There are continuous deliveries throughout the day and I spend time checking invoices and the price margins as this industry is unpredictable and fluctuations are common.
I attend meetings with the bank and potential clients as well as interacting with government bodies and health and safety officials. I also help to mark off any fish which hasn't been sold and make sure it is refrigerated and that the vehicles used for transporting the fish are well cleaned and inspected and ready for the next day.
There's about four hours in a day when the factory is actually closed. In order to have a fresh supply of fish the company has to operate long hours. Most nights I leave at 5.30pm and I go home and have dinner with my family.
In the evenings I try to relax. If any of the children need to go somewhere my wife and 1 will take them. Occasionally I go to the gym and I enjoy going out for meals.
I always have a Saturday and Sunday off and like to go to my holiday home in Donegal or to my family's home in Marbella when I have more time off. It gives me time to wind down and spend quality time with my wife and children.
Ulster Star
12/10/2006