Marianne Meehan talks to Catherine McHugh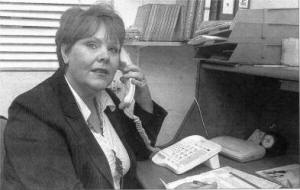 CATHERINE McHugh aged 46 lives on the Ballycolin Road just outside Lisburn with her husband, Damien and their five children. She has her own business as a life and business coach.
Catherine studied through the Open University at Queens University Belfast in Social Welfare and Psychology.
She has written and re-written a number of programmes over the years on the development of self - helping a wide range of people from single mothers to convicts rebuild their self-esteem and lives.
Starting out working with people suffering learning disabilities, Catherine re-wrote a programme which helped the first person in Ireland with learning disabilities to gain their certificate. This spurred on her passion for working with and helping people in the community.
I normally get up at around 8am and have a light breakfast. I have an office at home and one on the Lisburn Road, so I can check into office business from home.
Before 9am I generally look at my e-mails and return any calls that need to be done.
At the minute I am working with four different clients on an individual basis so I have an initial meeting with them in the morning which can take place over the phone.
This telephone coaching can last between one hour and an hour and a half.
I also offer follow up e-mail support. I try to be at the Lisburn Road office for about 1pm where I'll grab a sandwich and a drink before getting back to work.
Private sessions with clients take place between 2 and 5pm and I aim to spend 90 minutes with each person.
When I get home at around 6pm my great husband, Damien, will have something on for dinner. I'm not very hot in the kitchen myself. It wouldn't bother me if I never saw a pot or pan again.
I left school without any qualifications and went into hairdressing for 17 years. I even had my own business but it wasn't for me.
I went back to study and seemed to have my head stuck in books for the best part of 10 years, but Damien has been very supportive.
Now I love and am very passionate about the job I do. I have a programme running at the minute called 'Fit for Life' and that has me out of the house again from about 6.30pm and I won't get home again until 9.30pm.
My job is my hobby as well - I love watching Oprah and Dr Phil, but even then I'm sitting with a notepad and pen jotting down ideas for new or current programmes.
I'm honoured to be running a course at the moment training the first batch of people in Northern Ireland in a diploma in Executive Life and Business Coaching. This takes place on Saturday and Sunday.
Monday is my day for taking it easy. I stay at home and maybe watch TV or read a book, but I still check e-mails in case anything comes up at work.
My motivation stems from my passion for people and justice, which I inherited from my late father.
I try not to judge people and let them know if I can make a success of my life so can anyone.
Ulster Star
20/01/2006